Updates on two WR targets -- Thomas and Pouncey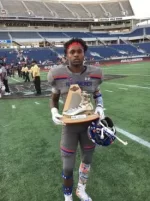 Miami's elusive search for wide receivers in the 2017 class has been a roller coaster ride. After Mike Harley solidified his commitment to West Virginia last week (to which surprised the Miami staff, who had anticipated a flip), Ron Dugans and company have been identifying their final targets for the stretch run, once the dead period ends on January 11th.
One name to start looking at as a serious target is WR Jeff Thomas from East St. Louis, who stole the show with an electrifying performance at the Under Armour All-American game today. Thomas and Miami have been in contact for "a while", according to a source, and this is not something that Dugans has just started to track. However, the news here is that when I asked Miami about Thomas two weeks ago, they were skeptical about his grades. When I asked again today, Miami was more confident about his ability to qualify and thus, a visit has been set for January 20th to Miami. The only other visit that he has set right now is to Louisville on the 13th. Hometown Illinois is a major factor here too.
[TWEET]815640639803101184[/TWEET]
The last few years, Miami has been able to work with both Trayone Gray and Dionte Mullins, who were questionable to qualify as well. The staff laid out an academic plan for both of them over the second semester and into the summer so that it would help facilitate the process. My guess is that Miami has been doing background research over the past couple weeks on Thomas' situation and are formulating a plan to get him in to the school if he chooses UM on signing day.
The other prospect, and more likely of the two right now, is former Norte Dame commit Jordan Pouncey from Winter Park, Florida. Trajan Bandy, who was at Miami's bowl game with Pouncey, told CanesInSight that he believes the Miami will land him after a conversation they had at the game. That of course could just be recruit talk, but it is a positive sign nonetheless. Pouncey has signaled to Miami coaches that they are the reason he decommitted from Notre Dame -- due to how hard they have been pursuing him. He sees an opportunity to see the field early in Coral Gables.
With Evidence Njoku as the lone WR commit in 2017 for the Canes, they are still likely looking to land two more at the position.