Tyson Campbell talks 'Canes after receiving Opening invite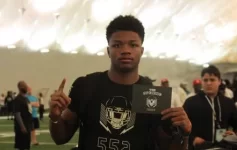 Ranked among the top 100 players in the nation, Tyson Campbell has become a focal point of the 2018 class in South Florida.
Going into his senior season Tyson Campbell has offers ranging anywhere from Syracuse to Ohio State, and is weighing his options going into spring football.
"I don't have a top list right now," Campbell said. "The schools going after me the hardest are probably OhIo State, Miami, LSU, Clemson, and Georgia."
Campbell was named defensive back MVP at the Miami Regional Opening on Sunday, and received an invitation to the Opening in Oregon this summer.
Campbell is simply focused on football going into his senior year, and isn't likely to make a decision until the season is over.
"Probably in December after the season or something like that," Campbell said.
The 6'2" defensive back has received attention this offseason, but falls back on his relationship with Mike Rumph, his former high school head coach, as he sifts through his recruiting process.
"I've known Coach Rumph for over a decade now," Campbell said. "He coached me in optimist and two years of high school so, he's always been that guy that I can call and give me advice and teach and talk about football."
Rumph is selling Campbell on the ability to play early, but is also emphasizing how he will fit into Manny Diaz's defense.
"With my athleticism and speed and stuff," Campbell said. "I feel like I can fit into that scheme, their defense likes to tackle and I like to tackle, they like to make plays and I consider myself a playmaker."
And perhaps most importantly, Campbell respects Rumph at the highest level.
"He played in the league, played for UM," Campbell said. "[He] had many great years coaching us and I feel like, you know, he is one of the best cornerback coaches even though last year was his first year."
Campbell is not only hearing sales pitches from Miami's coaching staff, but is also being recruited by 2017 signee Kai-Leon Herbert and Miami commit Nesta Silvera, who were both teammates with Campbell last season.
"Him and Kai [tell me about UM] almost every day so," Campbell said. "Those are great players, I'd love to play with my teammates again but at the end of the day it is where God plans for me to be."
Like many of Miami's other top prospects, Campbell also feels the momentum of Miami's 2018 class, which has racked up three commitments in the last two weekends.
"UM has that number one recruiting class right now," Campbell said. "So it's nice to see people you grew up playing with and people from your city staying home."
The idea of staying home also intrigues Campbell, who would love the opportunity to play in Coral Gables, if he were to choose them.
"It would be big," Campbell said. "My dad likes that school, I got a lot of family down there in Miami so it would be great."