Trajan Bandy is a Miami Hurricane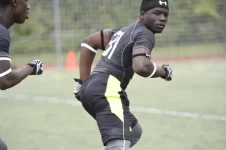 Miami's need for cornerbacks in the 2017 class seems to be quickly dwindling, as Mark Richt and his staff reeled in a must-get local target on Monday afternoon.
Four-star Christopher Columbus CB Trajan Bandy informed CanesInSight.com last night that he would be announcing his college choice today – and he did just that. Bandy marked Miami's third commitment in less than 24 hours.
[TWEET]762725425923682304[/TWEET]
Bandy's commitment to the Hurricanes is tangible evidence of Miami's recruiting success following its paradise camp about three weeks ago. The Hurricanes landed defensive end D.J. Johnson, defensive back Brian Edwards, and linebacker Bradley Jennings, Jr. last night all with the help of paradise camp. Defensive end Jonathan Garvin also committed earlier today.
Bandy committed to the Oklahoma Sooners back on February 21st, when Miami had not yet offered him. After going through the evaluation process, the Canes offered Bandy following his spring game against Mater Academy.
The pursuit was on from then, as Miami made it clear he was a priority for them. Bandy has visited campus close to ten times this summer, nearly every time with his Columbus teammates C.J. Henderson and Joshua Jobe (2018), who are both Miami commitments. Bandy decommitted from OU on July 18th.
A devout fan of Tyrann Mathieu, Bandy is a 5-9, 175-pound playmaker on defense and has a nose for the football. He projects as a nickel corner in college – and has the skillset to be utilized early in Coral Gables.
Bandy is Miami's 20th commitment of the 2017 recruiting class, which is a staggering number at this point of the cycle. Based on what CanesInSight has heard, Bandy could be the final cornerback taken in the class. The Canes got a leader and a great football player.
[HUDL]video/3/3946990/5721bd979a91677e7489bd07[/HUDL]