The Work: Practice 9 recap and quotes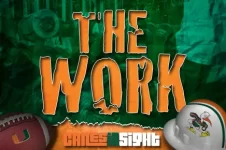 **As Mark Richt alluded to yesterday after practice, today's focus was on installing the red zone offense and defense. Richt said that the first-team offense "probably got the nod" in short yardage, before backtracking and calling it "dead even". He went on to say the defense won the day overall.
Miami's coach said that the offense has been "frustrated", but that he generally likes what the first unit is doing offensively. He added that the "twos and threes" have struggled a bit on offense against the defense.
Richt gave his thoughts on the young receivers.
Dayall is farther ahead, Ahmmon is pretty decent shape, and Sam got here a little bit later than everyone else," said Richt.
On the running back rotation, Richt said that he feels comfortable with more than just one or two tailbacks. He maintains that there will not be a feature back.
**Standish Dobard and Robert Knowles missed practice today. Richt said that Dobard is dealing with an ankle issue and that Knowles' finger "got a little jacked up". Neither injury seems serious.
**It seems like Ryan Mayes has finally turned the corner in his career at Miami. In what has been an awfully quiet first couple of seasons in Coral Gables, Mayes had a pick-6 yesterday in practice and had a big interception off of Brad Kaaya in the first scrimmage. Coach Richt assessed what he's seen from Mayes.
"His picks have been very calculated – he's had pretty good breaks on the ball behind the receiver. Overall, I think he's had a really good camp," he said.
**Defensive tackle Kendrick Norton is one half of a duo that has shined in camp – his partner in crime is R.J. McIntosh.
"That's one of my good friends. We play hard and motivate each other and the whole defense. It's nice being able to play with him," said Norton.
"The offense is giving us really good looks. We've been competing," said Norton. "We're playing fast, physical, and to a certain standard every play."
**Anthony Moten, who is also in the rotation at defensive tackle, said the defensive line coach Craig Kuligowski has been showing the linemen film of Shane Ray, Ziggy Hood, and Sheldon Richardson, all players who Coach Kool worked with at Mizzou.
Moten said that Kool wants the linemen to focus on Ray's explosive get-off and Richardson's passion for the game.
He added that there seems to be a four-man rotation at DT of himself, McIntosh, Norton, and Courtel Jenkins.
Like Demetrius Jackson said yesterday, Moten has been working on his "club/rip" move. Coach Kuligowski believes that it's a move that could potentially make Moten a rich man one day.
"He said working on that move will get you far in life," Moten said. "He wants us to take one move and perfect it. Once you master it, you can go to the next one."
**QB Coach Jon Richt praised Brad Kaaya's understanding of the offense. As Richt put it, he believes Kaaya has "mastered" the playbook.
Although Kaaya has confidence, he doesn't want to get complacent.
"Coach (Mark) Richt keeps coming out with new reads and he's added a couple new plays. I wouldn't say I'm all the way there yet because I'm always getting better and studying." Kaaya said
Jon Richt explained the learning curve that true freshman Jack Allison has had to make in college since enrolling at Miami in January.
"Jack's got a great arm and a great release," said Richt. "Back in spring, he was supposed to be a high schooler at prom and you could tell at times – he was a bit over his head. He did an awesome job and coming to work over the summer and he's playing with much more confidence.
It does appear that Evan Shirrefs might have the upper hand in the backup QB battle at the moment.
"Evan is one of the smartest guys we've got. He's probably picked it up faster than anybody else. He's steady Eddy. He's doing what he's supposed to do every play and we know what we're going to get out of him. He's a very trustworthy guy," Richt explained.
I asked Richt about Shirreff's athleticism, which he said he was "very" surprised by.
"You walk in the room and there's this big 'ol tall, goofy dude. You're like 'alright, that guy is not going to be able to move in the pocket', but Evan is actually our best athlete," he said. "If you look at all the metric stats and all that, he's actually our most explosive guy. He's the fastest and the hardest worker in the weight room."
Richt added that Shirreff's work in the offseason is "definitely" showing on the field.
**Brad Kaaya's biggest takeaway from the scrimmage? He said the offense had too many turnovers and needs to do a better job of securing the ball. Kaaya said the first play of the scrimmage was a fumble out in the flat.
Kaaya called Jon Richt "an extension of his father" as a coach.