The Work (Post Pittsburgh)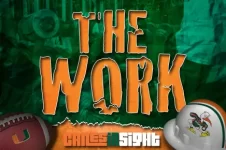 **Multiple people close to the program believe that this team checked out mentally after the loss to FSU and that showed with their flat performances the past two weeks. Denzel Perryman also said last night that the team got "complacent" recently. That is a major problem considering the team had lost 4 games at that point.
**There is growing uproar in the football building that Mark D'Onofrio is on his last legs at Miami, the question is will Al Golden pull the trigger? I mentioned this about a month ago, but I'm told that Golden and D'Onofrio's relationship is not as strong as some people suggest. With Golden really feeling heat now, firing D'Onofrio could be his final option.
**Looking at the recruiting class, there are about 6 kids that Miami absolutely needs to hold on to even if there are staff changes. Dwayne Lawson, JaQuan Johnson, Jordan Scarlett, Mark Walton, Tyree St. Louis, and Charles Perry. These are all guys who can be the foundation of a class from a talent standpoint. When decisions are made with the coaching staff, relationships with these kids will be taken into consideration. James Coley needs to remain on staff regardless of what happens. He delivered this program a sign of hope with Kaaya and has surrounded him with big-time talent.
**A major positive during this season according to a source is that Brad Kaaya, Joseph Yearby, and Chad Thomas are three guys who have already established themselves as well-respected leaders in the locker-room and they will be a part of the foundation moving forward much like Duke Johnson and Denzel Perryman have been. They aren't where they need to be from a vocal standpoint yet, but they are well on their way.
**Yesterday was in all likelihood Duke Johnson's final home game, which is not a surprise. I've also been told that Ereck Flowers is also heavily leaning towards the draft. With Duke gone, the offense will be more Kaaya-centric. The loss of Dorsett hurts, but Rashawn Scott will be back and he could be in line for a big year if he stays focused as he has been during this season. Kaaya and Scott had a great connection during fall camp. Miami is also counting on a revitalized Stacy Coley next year. Losing Walford is also tough, but Larry Scott seems to be one of the best coaches on staff.
**There is some talk that UF DB coach Travaris Robinson could wind up at Auburn. That could be an interesting fit considering Auburn and T-Rob have separately gotten kids from South Florida in the past.