The Work: Canes Camp Day 2 Recap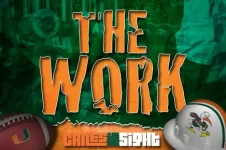 **In his opening statement after practice today, Mark Richt said that his team "practice liked champions".
Richt cited "effort, focus, energy level, just doing what you're coached to do" as the reasons for his happiness about today's practice.
**Defensive coordinator Manny Diaz met with media today after practice and assessed his unit after two days of fall camp. Diaz seems to like where his defense is at
mentally.
"I'm impressed with our knowledge of the scheme. There's more communication pre-snap because we're calling out and talking to each other," said Diaz. "You talk when you're confident. If you don't know the answer in class, you mumble or don't say anything at all."
"We can all play defense in shorts. These last two days were almost like a review session. Things get real tomorrow when we start banging."
**Adrian Colbert had a stellar first day of camp yesterday, capped by an interception on Brad Kaaya late in practice. Colbert was also active knocking balls away in the secondary.
Defensive coordinator Manny Diaz, who is familiar with Colbert from his time at Texas, looks at the grad transfer as a proven commodity.
"Adrian's done a nice job. He's brought what we thought he could provide from maturity. He knows how to practice at full speed and knows how to work with a high sense of urgency in everything he does," said Diaz.
"And then he's got the physical skills – you see his length and speed which are critical back there. He made a couple big plays yesterday with an interception and then caused another interception with a PBU."
Colbert himself is learning on becoming a full-time cornerback at Miami because he played safety more at Texas.
"I've enjoyed the transition," said Colbert. "I'm really just focusing on my eyes. My footwork has been pretty good and it's just about the eyes."
Mark Richt weighed in on Colbert.
"I've liked him since the day he got here. I like his energy, his maturity. He can keep pace here and in some cases lead the way," Richt said. "He will play a lot. He will play on specials too. He's long, athletic, and fast. Most safeties work on coverage skills as well, so he's not really all that rusty."
**With Miami's possible depth concerns at corner, sophomore safety JaQuan Johnson is a candidate to play some nickel corner this season. They didn't show it in spring, but this is a wrinkle that Diaz has already put in.
"The past two practices, we've been working me at nickel. We just started that yesterday, " said Johnson. "It felt good just saddling receivers. We aren't really in-depth with it yet, but they were just throwing me out there."
**This Canes tight end group is going to be fun to watch. I mentioned Mike Irvin II as a freshman to watch yesterday, and in the short time we were allotted today to watch, my eyes were on David Njoku and Chris Herndon. Not only do you see a bigger (245 pounds) and faster Njoku, but the biggest difference is that he seems to be much smoother receiving the ball. He's snatching the ball out of the air and looking fluid doing so.
As we've seen since spring, Herndon will be the Swiss Army knife of this offense. Much like Njoku, he looks improved in his craft. Opposing defenses will need to use a fast linebacker or bigger safety to match up with Herndon. Showing him as a fullback will ultimately cause a mismatch problem for defenses.
Don't forget about Standish Dobard – the seasoned vet of the crew.
"This tight ends group is the most dynamic in college football," said Dobard. "With me, Njoku, and Chris, you add the two younger guys (Irvin and Haskins) and we all compliment each other very well. Chris is versatile, David is the pass-catcher, and I'm the blocking guy."
"We will play however they need us. The way that Coach Richt uses his tight ends is crazy."
Dobard said that he played last season at 268, but is now down to 252 pounds.
**Although the talk heading into camp at the linebacker spot was the two freshmen starters, sophomore inside backer Jamie Gordinier is a player competing for serious time according to Manny Diaz.
"He's got great length and size for the linebacker position. He's a smart kid with the potential to help us out at multiple positions. He has some natural pass-rush interest and does a good job of being hard to block," said Diaz.
"He just needs at-bats, rep. As that comes, his confidence will grow. Lastly, he's a guy who works hard."
Gordinier turned 19 today.
**From the media viewing session of practice today, redshirt freshman offensive lineman Bat Milo was lining up as the right tackle for what appeared to be the second unit. Tre Johnson was the third team left tackle.
**Mentioned the backup quarterback competition yesterday with Evan Shirreffs and Jack Allison and just wanted to add something that I had heard.
Allison had a strong showing in day one and continues to become more comfortable in the new system. If it's a tight battle, it will be very interesting if Richt adds in the factor of a redshirt year possibly helping Allison down the road. Shirreffs had a good spring and you want to see him continue to improve on that because Allison's ceiling is sky high.
Mark Richt said today that Malik Rosier is "in the pack", but over the first couple days of fall camp, Shirreffs and Allison have gotten a majority of the second unit snaps.
**Gerald Willis limped off gingerly near the end of practice yesterday, but seemed to be back at full strength today. Willis said he was fine and said that he is in the best shape of his career. Willis said that when Felder came to UM, he was weighing 270 but needed to add weight. He dropped his body fat from 30% to 20% and now weighs 285 pounds.
"Coach Diaz says the scheme is made for us to make plays – and he's right, because I'm making plays. We're in a 4-3 and I'm just loving it," said Wilis.
"We were out here every day in the summer with Big Gus (Felder) running sprints and all that. I think I'm in the best shape I've ever been in because of him."
**Another defensive lineman who says he has dropped in body fat percentage is Chad Thomas, who went from 16% to 11%.
"I'm getting off the ball faster. I don't have that lazy weight where it feels like there's a monkey on my back," said Thomas. "
"We are real competitive on this team. We compete about the smallest thing ever. So when we get out here, this is the biggest thing ever for us."
His thoughts on the new defensive scheme?
"I love it. It makes me feel like I'm in high school again – I'm on the edge. Every time coach tells us to let loose, it feels good and I can smile and make a play."
Thomas on Willis: "He's looking good! I don't know if y'all could see from over here, but he made some plays. He got a lot of points today in practice," he said. "Gerald is going to have a big impact because he's a dog."
**Braxton Berrios will be a prominent component to Miami's offense if he is able to stay healthy.
"He'll be an every down option. With the tempo that we want to go at, I'm hoping to be two-deep in 3-receiver sets. I don't see him as a situational guy….he can do it all," Richt said.
**Mike Pinckney was on the stationary bike at the start of practice. Richt said that it was a "quad of hamstring" that was bothering him, but that they don't expect it to be serious.
**Linebacker Jermaine Grace was not at practice today because he had a final exam this morning. Richt confirmed it after practice.