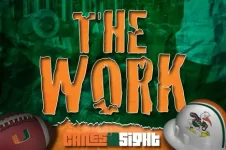 **Quan Muhammad, Mike Badgley, and Standish Dobard were in the red no-contact jerseys today. Golden said that Muhammad and Badgley are dealing with minor hip flexors and Dobard has a hand issue. Juwon Young did not participate in practice at all due to what Golden said was an effort to reduce swelling in his foot.
--Golden on the difference between being cautious with guys and letting them play though pain: "It's a fine line…during that stretch of Thursday, Wednesday, Friday, they only had 30-40 reps so that's a little healing time there. We have this next little push and then we'll break before we get to the next scrimmage."
**Chad Thomas explained the mindset of the players as they fight through the dog days of camp.
"You're going to have body aches and stuff. Coach takes care of us. A lot of us are going to see Vinny (Scavo) in the training room to get our body right for the next practice, so you just gotta keep a good mindset and ignore the nicks and nacks."
--Thomas feels like his added weight in the offseason will help him in the trenches.
"I feel good taking on the runs. I'm trying to get off on the runs and hold it in there, not just getting pushed out," said Thomas
--Thomas on the offensive line: "They're progressing very well. They had to come together and now they're giving the D-Line some work."
--Thomas on easing Gerald Willis in to the team.
"He was my roommate at The Opening or the Under Armour All-American game, so we were already good friends and I wanted to help him out. We're teammates now, so I don't really care where he came from."
"From what we've seen at the practices and stuff, Coach Coley has shown us big expectations for what this offense can do."
**Redshirt freshman linebacker Mike Smith sat out last year with a knee injury. Known as a relentless pass-rusher out of Miami Northwestern High School, Smith described the road back to the field this season.
"It took me a while to get back. I had to lose some pounds to get back in football shape…rehab process was really long days with squats and stretching, but it's really working now," said Smith.
--A couple of Smith's teammates have helped him with his transition to the hybrid rush role. He was primarily a hand-in-ground rusher in high school.
"With the help of Darrion Owens and Tyriq McCord, those guys really showed me the way because those guys played last year and Tyriq is a senior so he kind took me under his wing."
--A former teammate and current Jacksonville Jaguar was also somebody who has helped Smith mature.
"I was able to really look at Thurston Armbrister how he works and prepares so I try to mimic that so at least I knew how to come in here this year and how everything works."
**Transfer DL Gerald Willis is living with his close friend Standish Dobard. The two Louisiana products were teammates in high school at Edna Karr. Dobard has been instrumental in Willis' transition.
"He helps me stay focused, stay out of trouble, and staying on my back making sure I'm going to class and stuff like that," said Willis.
--One of the things that Willis notices about this Canes team is the way that they have reached out to him during his acclimation period at Miami.
"Coming from Florida, I didn't have a relationship with those guys like that. It means a lot to have those guys looking over my back and helping me."
--Willis on his role with the team this season, as he has to sit out per NCAA rules.
"I got some reps in the scrimmage and during practice they just use me in the drills and all that. I really just want to practice anyways so I stay in shape and come in next year knowing the system. This Miami heat is something serious so I wanna stay in shape and be out here with the guys and have a good relationship with them."
--Willis said that communicating is an aspect of his life that he has worked on since transferring.
"I'm changing by talking to somebody everyday if I do have a problem. I'm starting to get better with communications, which is something I was lacking at Florida."
--Willis' secret to avoiding confrontation now?
"I just count to three. I just have to walk away. I can't do what I did in my past, no matter how much it hurts me.
He knows that this could be his final chance and wants to take advantage of it.
"I'm playing with my future. This is my second opportunity and I don't want to mess it up."