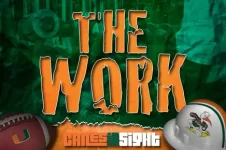 **A standout player from Thursday night's scrimmage was TE David Njoku, who caught a pass from Brad Kaaya on a fade route near the goal line for a touchdown.
"David is doing good. He's 240-something pounds now and he's got body control like a wide out, but he's gotten tougher and stronger," said Golden.
--Golden on Njoku's potential role this season: "Just think of Clive (Walford) as a sophomore where he can flex out and move and just kind of a lighter version. He's doing a lot of those things.
--James Coley on Njoku: "He's a great leaper, he's explosive, he's fast, and he's got great hands. I just want to see him over the course of a scrimmage kind of take over because he has that sort of ability for us."
--Njoku described his TD catch.
"Brad threw a great ball. The offensive line gave him great protection he was able to read the defense and he just threw it where it needed to be and I did what I needed to do…I just attacked the ball the way the coaches taught me to do."
"We're pretty stacked at Tight End, huh?" - Njoku
**Offensive coordinator James Coley mentioned Braxton Berrios as a player who stood out during the scrimmage. Coach Golden said that Berrios looks a lot faster this season due to his lean body mass. Golden explained that Berrios was bulkier last season coming off his ACL injury.
**Golden called the battle at corner and safety "the ultimate competition right now".
**Golden said that Kendrick Norton and RJ McIntosh have been getting some first team reps "here and there"
--He added that Sheldrick Redwine and JaQuan Johnson have been getting a lot of reps as well.
--Golden said that Mike Jackson is also getting some burn, but maybe not as much as the other guys that he mentioned.
"Mike has a lot of want to. He's smart and he's a big corner. He wants to play special teams too."
--According to Golden, freshman LB Jamie Gordinier is playing both the MIKE and SAM spots. He is playing some middle due to Juwon Young having a lower foot sprain.
**Golden is pleased with what he has seen from Malik Rosier.
"We just need to continue to work on his command presence, his leadership, his body language, and just having better command of the offense," Golden explained.
**Golden on Gerald Willis, who will not be playing this year: "I'm excited about him. He's got a great spirit. He's growing up and we've just got to keep him structured and keep loving him."
**James Coley's overall thoughts on the scrimmage:
"There were guys who are who they are. Brad was who he is. He was very poised, extremely accurate. I thought Braxton made a bunch of plays. I thought that once the offensive line settled, they started to show their potential. They're going against a good defensive front, so early it's always an initial shock when we come out to practice, but as the day goes on and they get adjusted to practice, it's a maturing process for them and I like how they're maturing."
**Coley noted that he liked how Joseph Yearby caught the ball out of the backfield and that he came up big for the offense in the 2-minute drill with a 20-yard run up the middle.
--Coley said that Edwards "ran hard", Gray "made some explosive plays", and that Walton "showed flashes"
--Coley also said that Trayone Gray is mentally "night and day" from last season.
"I think all four guys really want to start, so all four guys are really pushing each other."
**Coley said that he was pleased with the play of the offensive line and that they gave up about "a sack per 60", which is ideal for him. The scrimmage was 100 plays.
**Coley on having some experience at quarterback and the skill positions:
"It's a complete turn. It starts with Brad and it starts with a very experienced center in Nick Linder. Experienced backs in Joe and Gus, thank God Joe played last year. It starts with a receivers group that is really one of the smartest I've been around."
**DT Anthony Moten said, "the D-Line got penetration the entire scrimmage"
--Moten on Gerald Willis: "He looked really good out there. I had to help him out a bit, but he looked good…just teaching him day-by-day"
--Moten on if it matters who starts at DL: "Nope. We all gonna ball."