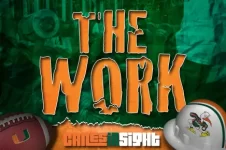 **Thursday will mark the team's first scrimmage. Golden continued to praise the work of freshmen in practice, but noted the importance of seeing them in the live situations.
"For us, we gotta see what happens Thursday when the lights are on and who can react without the coaches," said Golden.
**Golden calls these "situational scrimmages" where they put the team in different spots on the field in order "to see if they can act accordingly".
**The length will be "close to a half, but not quite a half."
**Golden explained a that although the team is focused on 3rd down, he wants them to be efficient before that, adding "don't underestimate the effect that 1st and 2nd down have on 3rd." He wants them avoiding 3rd and longs.
--Golden was asked about the offensive line, to which he had this to say…
"Probably the thing that is most exciting abut our team right now. Tyree St. Louis and Tyler Gauthier from the bottom are squeezing up and some guys at the top are really separating themselves there. The biggest thing for me is the cohesion and communication of the group."
**Kc McDermott and Trevor Darling are "leaner and more conditioned" according to Golden.
--Sunny Odogwu has a chance to surprise some people this year. Golden commented on the changes he has seen.
"His strength has improved. He hasn't been injured. All those things are making him more consistent. He has a challenge on his hands everyday whether it's Darrion Owens, or Quan, or Trent, or whoever it is rushing off that edge, it's a great test for him."
--Golden, asked about the defensive line:
"I would say the same thing there (as the offensive line). RJ (McIntosh) and Kendrick (Norton) have really started to squeeze it from the bottom up and everybody knows they are here to mean business. That's one contributing factor and then you have just the guys that have been here and you have that first layer has really been competing and mixing it up."
**Courtel Jenkins is a young defensive lineman who showed signs of being a player in his freshman season. Golden is pleased with the growth he has seen.
"Maturity, he's being more of a pro in terms of taking care of his business. Once you get in condition and you're more disciplined , which obviously those two things I just mentioned, once you get that the game kind of comes to you and he's doing that right now. He's still young, but he's in shape, he knows his stuff, and he's taking care of business off the field so it is allowing him to enjoy it and become more process-oriented," Golden said.
-- Jenkins is a believer in what new defensive line coach Randy Melvin is preaching.
"He changed up our technique and he makes us play more aggressive off the ball. They're giving us more go ahead to do certain things. Coach Melvin is an old-school coach who is big on technique," explained Jenkins.
--The New Jersey product described the changes he has made since he first arrived at Miami.
"I learned a lot in my freshman year and I learned by example what I should and shouldn't do, so I carried that on to my sophomore year and make sure I made changes in my playing style and the way I walk around this building."
--Jenkins on Norton & McIntosh:
"Kendrick is very good. He's very technically sound and very strong. McIntosh is the same thing. They take coaching and they listen."
**Redshirt Freshman Chris Herndon seems to be a potential breakout player for Miami on offense this season. He explained what his role will be this season.
"They use me a lot in the backfield trying disguise a couple things and maybe surprise a defense. And then they also use me split out so they do a good job of mixing it up," said Herndon.
--When asked if he thought he would be getting a lot of playing time this season, Herndon said, "It's looking like it."
--Herndon believes we will see a more "wide-open" offense this season.
"Especially with Brad, he's learned a lot since he got a lot of experience last year so his mind has definitely opened up. He's just getting better every day so we are just going to work off him."
--Herndon on the versatility of his position group:
"We aren't just tight ends. We have speed at the position so we can go deep and mix it up there."
**Jelani Hamilton said he is weighing 300 pounds right now. He came to Miami at 240 and was at 280 before redshirting last year.
--Coach Golden continues to mention Norton and McIntosh as players who have impressed, and Hamilton agrees that they do not play like freshmen.
"Their ability to get after it. Usually, when they would put their pads on, they get hit and knocked back a bit and it's kind of like their welcome to freshman college football. But they haven't had that yet, and they attack every play like it could be their last play. They come to us for help with the playbook and they hold themselves accountable," said Hamilton.
--Hamilton commented on the progress he has seen in former high school teammate Anthony Moten, who looks like he is ready to be an impact player for the Canes.
"I see this as his year. He just needs to keep grinding and working like we all do."
**I had a chance to ask linebackers coach Hurlie Brown about Marques Gayot's progression in his move from safety.
"Marques is doing really good. He actually asked for that transition, which is probably the thing I should have done with my career, " added Brown.
--Jermaine Grace came to Miami in the 195-200 range, and is now going to play the season around 215. Coach Brown credits Andreu Swasey for that improvement.
"I see Swasey. Swasey is one of the best in the business and I don't care what other people said out of high school. I knew that when he got with our strength and conditioning program and coaches, that it was not going to be a problem. He has had a great offseason and he looks great," said Brown
**Malik Rosier told me today that James Coley has been the coach organizing the meetings between the quarterbacks and offensive line. Rosier added that these daily meetings last anywhere from 30 to 45 minutes.
--Rosier on FR QB Evan Shirreffs: "Really smart kid. With every freshman, there's always something they need to learn. Even me and Brad have stuff we have to learn with coach (Coley) constantly throwing stuff at us, but everything you throw at him (Shirreffs(, he's absorbing it. One thing I can say about him is he's always asking questions to me and Brad and the receivers so he's doing a great job of talking and really getting to the playbook."