The Work: August 15th practice recap (DL featured)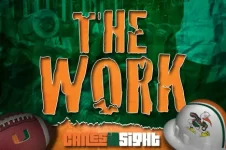 *Mark Richt said that the offense won the day.
"It took the two offense to get three out of four on the very last drive against the one defense, so that was great because they haven't had a lot of success against the number one defense."
Richt added that it has been "much more competitive every day" since the defense had been dominating the first week or so of camp. Miami's coach said that if Canes receivers and tight ends would have been more consistent catching passes today, "there wouldn't have even been any drama at the end".
**What is Richt looking for in his punt and kick returners?
"A lot of people want the most prolific return man, but I want the most dependable one first. If he happens to be the most prolific as a runner and a guy who could stick it in the end zone, then great," said Richt.
According to Richt, Braxton Berrios, Stacy Coley, Malcolm Lewis, Sam Bruce, Corn Elder are rotating as returners right now. He said they're "teaching Bruce".
Mark Walton, Gus Edwards, Berrios, Coley, and Corn Elder are at kick return. Richt said that Edwards would be the "off-return man", but that if the ball goes his way, he will return it.
**Richt seemed extremely pleased with the open-field tackling of his defense and said it has improved mightily since spring practice
**On how the hiring if DL coach Craig Kuligowski came about:
"I knew him from Coach Gary Pinkel – we've gotten to know each other and become friends throught the head coaching thing. He actually gave me a call and said it looked like Kool wasn't going to be retained. I called him within five minutes," said Richt.
"I would have hired him on the spot or offered him the job on the spot, but I told him I needed to get my D-Coordinator in line, but that he was my first choice and all that. I called him back within 24 hours because I knew everybody would want him and I'd be stupid not to do it."
Richt was asked why he thinks Kuligowksi, who had a tremendous track record at Missouri, had not yet been a defensive coordinator in his career and he responded, "I think it's still a very real possibility." Kuligowski weighed in.
"I've asked myself that question a few times over the years. The truth is, God's got a plan and if plan is for me to be a defensive line coach the rest of my life or if I'm
supposed to be a defensive coordinator later on in life or a head coach, that's be great," said Kuligowksi. "I just want to be the best at what I do."
**Kuligowski was asked to give a "state of the defensive line address", if he had one.
"Well I think they're progressing about how I figured. I think we have some talent and I think we have some guys that look how you want them to look and play how you want them to play in terms of athleticism. Now is just about them trying to do the right things and do them the right way," he said.
"They've bought in, they're working hard, they're teaching each other the drills now. They're making it their own and I really think they're going to be successful."
Kuligowski added that he sees good depth within his group right now, which led to him somewhat explaining how the rotation will work.
"I think if you see one guy playing a lot and one guy playing a little, one guy's a lot better than the other. If you see two guys playing even, it's because that playing even.
**Players who were on the stationary bike at the start of practice:
LB Mike Pinckney (hamstring) – day-to-day
CB Ryan Mayes (shoulder) – Richt said this is a non-surgical issue, it's just hurting him right now.
DE Tyreic Martin (knee)
DE Scott Patchan (knee)
FB Gage Batten (foot)
**Defensive end Chad Thomas came to Miami as a 5-star recruit out of Booker T. Washington high school. Thomas said today that he has not lived up to his expectations in the first two seasons of his career and that is his primary motivation.
"I made some plays, but I didn't make enough," said Thomas. "I just gotta perform. I have to do my part," he said.
**Sophomores R.J. McIntosh and Kendrick Norton could be a load to handle for opposing offensive lines this season. The two seem to be complimenting each other very nicely up front.
"It's very fun. I'm not used to playing with someone that's big and quick and strong like him. Both of us coming here was very special. It's an honor. He's physical and smart," said McIntosh.
A former travel basketball player in high school, McIntosh has physical traits at the defensive tackle spot that not many athletes his size have. He explained the advantages that come with having played basketball his whole life.
"My hand-eye coordination and being able to get around screens (in basketball) comes with me to the football field. You have O-linemen trying to block you from every direction, since I'm in the middle. So I can use my quickness to get by them," explained McIntosh.
**Freshman DE Joseph Jackson was not available to the media, but he has made major progress over the last couple of practices. I asked a couple of his teammates about what they've seen in the lengthy defensive end.
Chad Thomas: "By the time he gets to his last year, he's going to be one of the best defensive linemen ever (from Miami). He has the body, he just has to get the mind."
R.J. McIntosh: "He's getting used to it, I can tell. I don't think he was used to playing against heavy guys like that, so he's using his hands more and that strength in tackles.
Demetrius Jackson: "He's better than I was coming him. He's a dude that works hard for being that young. He listens and I can see him playing. He's doing a lot of good things.
**Chad Thomas and Gerald Willis both had interesting things to say about their teammate Al-quadin Muhammad as he heads into his senior year at Miami.
"His mind is more set on football, that's the biggest thing," said Thomas.
"He's closer with the guys and closer with the coaches. He's working harder and harder and I love his energy and how he's becoming a leader out there," said Willis. "He's a bigger part of the team. Him and Chad are leaders and those are the guys I looked up to when I came in."
**Redshirt sophomore Gerald Willis said today that Manny Diaz installed some new plays today, including a package that includes Willis as the defensive tackle in passing downs. Willis added that McIntosh has been the other DT with him in that package.
For your Miami Hurricanes merchandise needs and exclusive apparel, visit CanesWear at Miami FanWear *€" MiamiFanWear