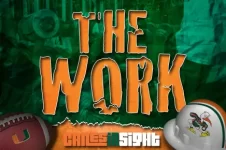 **Last week, Miami received its biggest commitment in the 2015 class with Killian Safety JaQuan Johnson. Johnson has been a well-known name in South Florida since his youth football years (Richmond Giants) and has been a star since his freshman season. My take is simple: Miami got a special player and leader. He elevates his team's play like almost no other player I've seen at the high school level. If there was an "MVP" award for Dade County high school football, you could make the case that Johnson would have won it the last three seasons. I exchanged messages with multiple local coaches who are extremely familiar with Johnson. This is what they had to say.
"Jaquan is the #1 playmaker on the defensive side of ball in state of Florida. Very dynamic athlete who's not like the typical self-centered player we normally see now. He doesn't care about hype and stars and offer lists. He leads his team and demands of them. For UM, they're getting another player in the mold of Duke Johnson. He'll lead the class from signing day until his last day on campus. He's a winner on-and-off the field. Jaquan is one of those that UM can't afford to let get out of Miami. He's special."
"Miami is getting one the best leaders and players in the nation. They say football isn't a 1-man sport, but the second he came back from injury, Killian's season turned around. Kid is so dynamic, he can play RB, receiver, corner, safety, or outside backer."
"High football IQ, great leader on-and- off the field, and no one will outwork him."
"One of the more intelligent players I've been around at the high school level. Really has a knack for being around the ball and making plays. I don't know what impact it will have. Miami's defense has to play better and develop draft picks before kids feel comfortable pledging to them."
**The number one question many Canes fans originally posed when Johnson committed was how this commitment could affect other recruits in the South Florida area. Although the commitment essentially locks up Tim Irvin (who was already a Miami lean), at this time he is expected to make an announcement at the Army All-American game. Things like this are subject to change of course, but that is Irvin's plan right now.
**Booker T. Washington Jumbo ATH Devonaire Clarington is another prospect from down south who is very high on Miami. A commitment from him in the coming weeks would not surprise me based on what I have been told. I have been saying for a while that I was a huge fan of his upside at the defensive end spot, and that is just what he will play for the Tornadoes this season. He flashed major signs of that potential the other night against Oscar Smith HS. He is raw at the position, but that is also the case for him at TE.
**Keep an eye on the recruitment of Carlton Davis. I would be very surprised if he signs with Ohio State come signing day. A source said that Miami is "100%" still in the picture with him. The Canes will continue to recruit him and a flip is entirely possible at some point. No timetable.
**I don't have much to add about Brad Kaaya being named starter. All I will say is that Jake Heaps is healthy and anyone who suggests that Kaaya won the job based on Heaps' "injury" is just wrong. Despite what media reports have suggested, I was told that Kaaya won the job "convincingly". He gives Miami the best chance to win this season.
**Michael Wyche has garnered mixed reviews thus far. There is no doubt that the talent is there, but arriving in the summer as opposed to January really set him back. I still see him making an impact because of his sheer size, but expectations should be tempered for him early.
**Beau Sandland's transfer request was not a surprise to Miami. Clive Walford and Standish Dobard really separated themselves from Sandland beginning back in the spring. Christopher Herndon has drawn high praise early in his career and I see him as the one who benefits from this the most. His versatility and blocking ability will be the key to him seeing the field early.
**Quick note – I am hearing positive things on two St. Thomas Aquinas freshmen, Anthony Moten and Nick Linder. Moten will see the field this year and Linder will compete for the starting center spot next season. He has been a pleasant surprise.