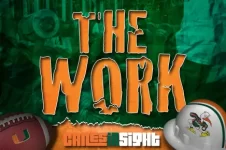 **Mater Academy CB Latavious Brini announced on Twitter this morning that he would be announcing his college decision on July 31st. I wrote an article a couple weeks back following Brini's unofficial visit to Miami when the lengthy defensive back stated that the Canes had separated themselves from the pack. One of the things that makes recruiting such a roller coaster ride to follow is how quickly things can change. Based on what I was told today, it is unlikely that Brini will wind up as a Hurricane. More on this in the coming weeks, but just wanted to put that out there now so Canes fans aren't blindsided by him going elsewhere.
**On that note, it is no surprise that Miami has made such an aggressive run at Brian Edwards from Miramar over the past couple weeks as I've written about recently. Miami views Edwards' and Brini's versatility similarly in the sense that they can both play safety or corner. At this point in their careers, Edwards has shown more of a willingness to use his size affectively and has smooth hips in coverage. It was not likely that Miami was going to land a trio of Brini, Edwards, and Bandy. The staff would be more than pleased with getting Edwards and Bandy because they each bring something unique to the roster. According to sources on both Miami's side and within Edwards' and Bandy's camp, I expect both to end up as Hurricanes.
**A couple prospects who seem to be falling a bit off Miami's radar for now are Dillard's Jordan Wright and American Heritage's Tedarrell Slaton. The reason? Miami likes them as prospects down the line, but they both seem to have their hearts in basketball. One thing I've noticed from this staff is that they are really trying to take a look at the mental side of each prospect and weigh it in their evaluations. That's one of the reasons they are trying to get all the prospects in this area on campus and get into their minds as much as possible.
**Not much of an update here on Dionte Mullins, but Miami is awaiting his test scores. He took the SAT two weeks ago and the ACT last weekend. Miami remains hopeful that he will qualify.
**One prospect who Miami absolutely loved from last week's set of camps was 2019 Pahokee DB Akeem Dent. Dent recently transferred from Royal Palm Beach. Miami offered Dent after the camp making it his 2nd offer with FAU. I'm told that he will be a priority moving forward.
**Many have asked about the possibility of Miami bringing in a JUCO prospect at CB, or any position for that matter, but I'm told that the staff has not committed to anything in regards to junior college guys. They want to wait and see how the class continues to shape up, and the fact that new faces will emerge.
**Much like Nick Roberts decommitted from Miami this past week, I expect the same to happen with Bentavious Thompson (Southridge) sooner rather than later. There has not been much communication between the two sides recently and Miami continues to lock in on Anthony McFarland and Darrian Felix at the position, with Robert Burns still committed.