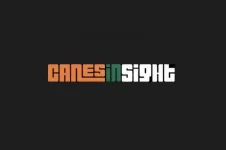 **I've posted about 2019 Miami High Dontae Lucas multiple times over the past few weeks and for good reason -- Lucas, who transferred in from Booker T after the football season, will be the top lineman in south Florida for his class, and will without a doubt be highly ranked nationally. He dominated at UGA camp a couple weeks back and Alabama also offered the 6-5, 340-pound mammoth.
Lucas was not able to participate in yesterday's Mark Richt camp due to a minor tweak in his back, but he wanted to get on Miami's campus and talk to the coaches. He visited with two of his coaches from Miami High, including his offensive line coach and Lucas received the VIP treatment all day long.
Mark Richt and Stacy Searels each took time to speak to Lucas individually during and after the camp session. Lucas told CanesInSight that he will be participating in Miami's paradise Camp next month. A source said that Lucas plans to be around campus a bunch over the summer and that the Canes have an excellent chance here.
The most incredible thing about Lucas as a prospect -- he is 16 years old, which is the natural age for his 2019 graduating class. His coach said that the goal is to have him drop about 20 pounds this offseason, which could be a scary sight considering how well he currently moves.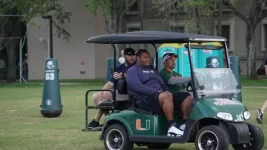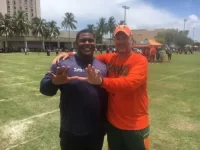 **Another 2019 prospect that I've mentioned several times was offered by the Hurricanes yesterday -- and it was a long time coming.
UM offered Miami Northwestern OLB Samuel Brooks, who was Dade County's sack leader last season with 16.5. Brooks played almost primarily with his hand in the ground last season, but will be a linebacker at the next level and he certainly has the athleticism to do so.
At the Nike combine back in February, Brooks was measured at 6-1.5, 193 pounds. 4.84 40, 4.38 shuttle, and 36.2 inch vertical jump. It was the 5th-best testing score of the entire combine, regardless of class.
Miami was already Brooks' favorite school according to a few people around him, but with yesterday's offer, the Canes solidified their status as the program to beat and I have him on commit watch. Brooks told me that he considered doing it yesterday and is talking things over with his family.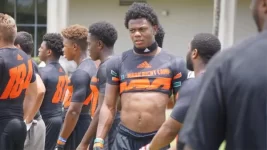 I watched a lot of Brooks last season at Miami Northwestern and the one play that sticks out to me the most is his game-sealing scoop and score touchdown against Columbus at the 1:40 of the video below. You can also see his ability to run on kickoff coverage where he is the first MNW defender to the return man on the first play. He was wrecking havoc the entire game
[HUDL]video/3/5417056/57c99b163bd8145b84125525[/HUDL]
**Miami made a big impression on 2018 four-star defensive end Kayode Oladele yesterday. The former FSU commit made his way to campus to get some work in with Coach Kuligowski and the Hurricanes have a very real chance for him if they continue to pursue. One thing that has Oladele very interested in Miami is the way that Kool rotates his defensive linemen -- Joseph Jackson's big freshman season at Miami was eye opening for Kayode and he believes he can do similar things if he earns enough snaps.
A source close to Oladele said that the native Nigerian does a ton of research when it comes to his recruitment and he is particularly big on Kuligowski's track record producing top draft picks. I have heard that FSU is now out of the picture for him as well. No timetable for his decision yet, but Oladele plans on being at Paradise Camp.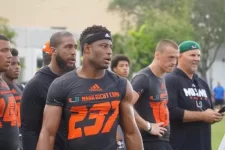 Here is his video from camp yesterday:
**The Canes solidified their status with 2018 offensive tackle John Campbell this weekend. I mentioned on the podcast earlier this week that Miami was in a great spot with Campbell -- and his two days on campus this week only strengthened that. Campbell made the trip down with his sister and brother-in-law. I had the chance to talk to them for a bit and it was their third time on campus with John. Their son (Campbell's cousin) was also participating in the camp with the 2020 group on Thursday.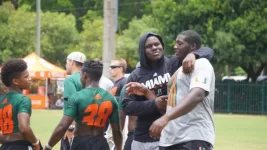 On Friday, Campbell worked out with Stacy Searels and then was hanging out with a bunch of Canes players for the remainder of the camp. He was spending a ton of time with Miami RT Tyree St. Louis. A summer decision seems likely.
Miscellaneous team notes
**A new addition to the team's offseason workout regimen is yoga. Players have scheduled yoga sessions twice a week on top of their weight room work.
**One player who has made major gains according to sources around the program is sophomore linebacker Zach McCloud. McCloud did not even step in the weight room during his freshman year for the most part, as he was still regaining his lifting strength from a shoulder injury coming out of high school. Canes strength coaches wanted to bring him along slowly last year, but since he was cleared to lift earlier this year, McCloud has added 10-15 pounds of muscle and has the ceiling to be an absolute star in this Manny Diaz-led defense.