The Work 4-7 (Baseball Edition)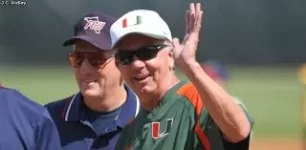 Welcome to the first installment of The Work (Baseball Edition). I call a number of the Canes baseball games for WVUM and have been following the team very closely this season. I hope to put these updates out weekly.
**The Canes are in a solid spot with their starting rotation right now.
--Andy Suarez is the unquestioned ace as he continues to look healthier and healthier after returning last month from a nagging oblique injury. He was named ACC pitcher of the week after striking out 12 on Saturday against Duke.
--Thomas Woodrey has been Mr. Consistent for Miami, as he has logged a 2.28 ERA in 7 starts and holds a 3-1 record on the year. His transition form the bullpen has been seamless.
--Enrique Sosa has shown some ups-and-downs this season, but when he's on he has been tough to hit. Sosa threw a gem on Sunday against Duke, going 6.1 innings and only allowing 1 hit. The key for him this season is the addition of his slider.
--The x-factor for Miami's rotation will be Danny Garcia, who has taken a major leap in his sophomore season. Garcia had a rough outing against FGCU a couple weeks back, but other than that has been spectacular. Garcia is 5-1 with a 2.76 ERA on the year in 7 starts and 10 total appearances. He has primarily been used as a mid-week starter, but as postseason time comes around, he could definitely be asked to do much more. This is a good problem for the Canes to have.
**One of the question marks for Miami heading into the season was who would step up in the bullpen for the Canes with Thomas Woodrey and Enrique Sosa sliding from their relief role into the starting rotation.
--Freshman Michael Mediavilla has turned heads midway through the season. In 16 appearances, the towering left-hander has a 2.35 ERA and has only allowed 4 ER in 15.1 innings of work. He has arguably been Miami's most impressive arm "stuff-wise" out of the 'pen.
--One of the major surprises for the entire team has been the emergence of Daniel Briggi as one of the most reliable pitchers on the staff. Briggi made the team this season as a senior walk-on after failing to make it his first three years. He pitched on the club baseball team prior to this season. In 22 innings, Briggi's ERA is 1.64. He has done a great job of eating up innings for Miami and just throws strikes.
--Derik Beauprez is one to watch down the stretch. He has struggled this season with a 9.82 ERA and leads the team in walks with 17. Throwing strikes has been his major issue, as he has come unraveled multiple times. He has tremendous arm talent though, and could become a weapon late in the season if he can get some confidence.
**There was some speculation on how Miami would replace the veteran outfield of Tyler Palmer and Dale Carey, but the emergence of Ricky Eusebio and freshman Carl Chester have solved any potential concerns.
--Eusebio saw action in 44 games last season, more frequently as a defensive replacement, including 13 starts. His improvement at the plate has been phenomenal, where his average has taken a jump from .263 to its current .304. Eusebio has started all 33 games and has been stellar in the field with his perfect fielding percentage.
--Freshman Carl Chester's average has dropped recently, but he has been hovering around .290 for most of the year and has provided a nice pop with 4 homers from the leadoff spot. His speed is elite and he is 8-11 in stolen base opportunities.
**The infield is taking shape.
--Prior to the season, not many could have predicted the success of George Iskenderian, who is hitting .364 and is 2nd in the team with 29 RBIs. He has played mostly shortstop this year, but he played some second last series against Duke, with Brandon Lopez getting a couple starts at short.
--Chris Barr and David Thompson are locked up at 1st and 3rd. Thompson consistent success this year is mostly due to him being completely healthy, but Chris Barr has been the ultimate boost to this lineup. Barr sat out last season with a shoulder injury. Fielding and speed were always his strengths, but he has become a reliable bat in the 7-8 spot. He is hitting .277.
**Garrett Kennedy has taken the next step
--Kennedy has always been a great catcher behind-the-plate, but he was a major liability in the Miami lineup the past couple years. Now in his senior season, Kennedy has found himself at the plate. He lads the team with a .378 average and 3 home runs. He has been absolutely crushing the ball lately.
**The school will unveil the Ron Fraser statue dedication on Friday, April 24th before the series opener against Florida State. The ceremony will take place at 4 P.M. and the game is expected to be sold out.