The Work 3-21 (Basketball Edition)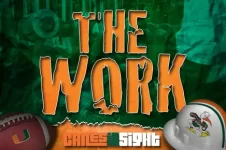 As Miami awaits the winner of Arizona State/Richmond for the opportunity to reach their first NIT Final Four, I highlight some of the storylines as we look ahead to the offseason. Although it was a disappointment that Miami did not make the big dance, there are positives to take away from the year, including Joe Thomas being the only graduating player. The Canes look to be in prime position to make a lot of noise in the ACC in 2015.
Look for more reports on the basketball team like this over the next few months.
**Logjam at the guard spot
--Angel Rodriguez's shot selection will be a major area of focus for him in the offseason, much like it was for Sheldon McClellan last year (McClellan's FG% rose from 38% at Texas to 50% at Miami this season). Rodriguez shot 34% from the field this season, while at Kansas State he was at 36% his sophomore season.
--Manu Lecomte took a major leap this year, but coaches hope to see him continue to expand his game. After shooting a more-than-respectable 39.7% from three during his freshman year, his percentage leaped to 47% this year. His confidence with the ball in his hands was a major improvement. The next step for him will be continuing to work on his mid-range game, which could be a lethal weapon for him.
--DeAndre Burnett and JaQuan Newton will be the ones to watch this offseason. There was talk that Burnett clashed with coaches at times this year, which led to him not playing as many minutes as he would like. His talent is undeniable, though. Burnett brings instant offense off of the bench, scoring 7 PPG in only 17 minutes per game. He only shot 36% from the field and 28% from three, which could definitely be improved upon. Newton did a nice job in spurts for the Canes this season, but his shooting needs major work. The upside with him is tremendous and the thing that he brings to the floor is an attacking mindset. He did a great job of pushing the pace and attacking the lane and kicking. It would not surprise me to see one of these guys transfer, but hopefully it all works out.
--James Palmer's length and ability to stretch the floor was a weapon for Miami this season. Coaches would like to see his rebounding numbers to a jump from 1.4 this year. Offensively, the focus for him will be expanding his game off the dribble. We saw flashes of his ability to take it to the hoop in transition, but the midrange game, as well as the addition of a floater, are two additions that could help him really become a special player.
**Freshman class shows promise
--One of the most encouraging signs for the Canes this season was its freshman class of Palmer, Newton, and Omar Sherman. One of the knocks on the Miami program over the past few years is that most of its top players have come via transfer (Jack McClinton, Malcolm Grant, Trey McKinney-Jones, Angel Rodriguez, Sheldon McClellan). Obviously a lot of those guys did big things as Canes, but it is tough to build a foundation on transfers alone. There has not been a freshman class show this much promise in a long time as Canes. Sherman will probably look to drop a bit more weight, which could keep him on the floor for longer stretches at a time. He lost about 20 pounds when he first got to Miami, and losing a little more would do wonders for him defensively. He has good enough hands and body control to be able to make a big leap from 2.2 RPG. His minutes decreased as Ivan Cruz Uceda found his groove. Coaches would like to see his offensive game around the basket make an improvement as well. Has a tremendous feel for the game.
**Newcomers could help boost defense
--Miami's defense ranked 87th in the country this season, allowing 63.4 PPG. 6-8, 220-pound Kamari Murphy had to sit out this season due to transfer rules after coming from Oklahoma State last offseason. His biggest contribution next season could come on the defensive end, where his length is a major factor. He averaged 6.3 rebounds per game, which is major as well. There is already some talk that Canes' lone signee Anthony Lawrence could see some time as well. The 6-7 wing prospect has the physical makeup and athletic ability to be a lockdown defender at the next level. He also excels in transition offensively, as referenced in this dunk he had on 7-6 Tacko Fall:
https://www.youtube.com/watch?v=xAsvdxLvk0g
**Progression of Jekiri and Cruz Uceda
--Tonye Jekiri finally took the huge step that many Canes fans had been hoping to see from him. His minutes increased from 21 to 30 per game, PPG jumped from 4.2 to 8.7, FG% went from 45% to 51%, FT% from 58% to 73%, RPG from 5.5 to 10.1, blocks from 0.9 to 1.5. He has continued to work on that midrange jumper, which could make him a big-time NBA prospect in a year. His back-to-the-basket game needs work as well, but if he makes yet another leap then he could be one of the top big men in the country next season.
--It took Cruz Uceda a while to get his feet under him after having to sit out until the Notre Dame game on January 17th, but he really became adjusted to the speed of the game by the end of the year. He had four double-digit games including 11 against North Carolina. Coaches would like to see him become a bit tougher inside the paint, particularly on the defensive end and rebounding-wise, where he averaged 3.2 boards a game.