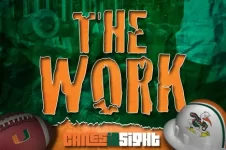 I have not really had the opportunity to give my thoughts on Miami's class recently so this week I will take a look at both sides of the ball, starting with the offense in this article.
As far as general thoughts, I share the same sentiment that most of you do in that it is tough to be fully excited about what is happening because it is so early in the process. "If Miami wins, they will come…" will be something that I believe holds true here, but the positive is that it is almost getting to the point that they can lose some kids and still be OK, because the class is absolutely loaded right now, especially defensively.
These are a combination of my thoughts from seeing these kids in person and watching clips, as well as people around the program and high school coaches who have had the opportunity to see these prospects play.
QB
Jack Allison
– Allison has all the tools to be next in line after Brad Kaaya. His size is a major plus (6-4) and the one thing that everyone notices about him is that he throws a beautiful ball. Will need to put weight on, but that will come with time. Composed pocket passer who is doing a great job representing Miami's class right now. Others want to play with him.
RB
McArthur Burnett
– First off, good job by Miami getting back into The Muck. This is a prospect who I could see making a leap in the rankings at some point. He is a smooth, shifty athlete out of the backfield who uses the whole field well. Interested to see how Miami uses him because he has a nice skillset. Corner might end up being his best position
Amir Rasul
– Absolute steal for Miami here. Tremendous job to offer early by the staff. Over his first two seasons at Columbus, his feel for the game and toughness were questioned by some as he did not produce at as high of a level as most expected. He came to Columbus after a dazzling youth track career and has bulked up to around 195. If he continues to progress after a spectacular junior season at Coral Gables, he has the ability of a high 4-star prospect. This is a kid that Miami needs to hold on to.
WR
Dionte Mullins
– Does a very good job with body control and has reliable hands. Lacks elite speed but does a great job of changing his speed in-and-out of his breaks. Has been the ultimate leader publicly for this Miami recruiting class and he deserves credit for that.
Sam Bruce
– Unless you've been living under a rock the last two years, you know how electric and versatile Sam Bruce is. Has all the makings of an elite slot at the next level and is one of the most confident players that I've ever seen and spoken to at the high school level. Will be very tough for Miami to hold on to him, but as is the case with most of these commits, if the Canes win then he will most likely come. Kevin Beard was his receivers coach for two years at University School and with the South Florida Express, so that connection could be huge.
Isaiah Johnson
– From another school that Miami has not had success at in Dwyer. Johnson is a long-strider who can really get vertical. We've seen James Coley's love for big-bodied receivers and this is another kid who fits that mold. Large catch radius is impressive. Looks a lot like Tyre Brady did coming out last year.