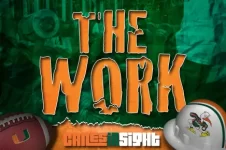 **As has been reported on this site and others, Miami is currently in a phase where the staff has to reconfirm all old commits. The staff is asking all of them to either camp or come to campus and meet with the coaches. One spot that Miami will be very picky with this cycle is linebacker, after success in the 2016 class. Miami plans on taking two linebackers for the 2017 class, but of course a lot can change between now and next February. St. Thomas Aquinas LB Tyler Dunning and Miami Central's Waynmon Steed are currently committed to the Canes. Look for a decommitment from Dunning soon, as he is not in Miami's plans at the moment. This staff is looking for linebackers who can run.
**At cornerback, Miami got who they think could wind up as a top-5 cornerback prospect nationally in Chris Henderson, Jr. With Henderson Jr.'s commitment, Canes fans have speculated that his high school teammate Trajan Bandy could be next for Miami, although I've been told that is unlikely. Bandy is a tremendous playmaker in the defensive backfield. He packs a punch when he hits and has top-notch coverage skills, but Miami is not big on him. They want size though, which is unfortunately something that Bandy lacks. This was the case with the Golden staff for Bandy and it remains an issue with the new staff. 2018 DB Joshua "Woogie" Jobe might end up being the best of that Columbus group though, and he is currently a Canes commit. Jobe projects as a versatile corner/safety prospect with a frame reminiscent of Deon Bush.
**A cornerback prospect to keep a close eye on is Mater Academy's Latavious Brini, whose length at 6-2, 190 intrigues Miami. I wrote about Brini impressing at last year's South Florida Express tryouts when he had just turned 16 years old, and now his recruitment is starting to take off. UF, LSU, Miami, and West Virginia have all offered in the last month. The staff is making him a priority early in the process, but UF holds an early lead.
**Miami is tracking under-the-radar DL prospect Rashad Colson, who recently transferred from Hialeah Miami-Lakes to Carol City. Colson holds offers from Baylor and Temple, but at 6-5, 280 with a lot of raw talent, Colson is poised to blow up. Between WR Kevaugh Dingle, LB DeAndre Wilder, potentially Colson, and 2019 RB Nayquan Wright, look for Miami to be spending a lot of time around the Carol City/ Miami Gardens area. Colson's highlights from HML here -
Rashad Colson - Rashad (Freak) Colson highlights - Hudl
**On the heels of Chris Henderson's commitment, Miami is expecting "another big one soon". So keep your eyes peeled for that.