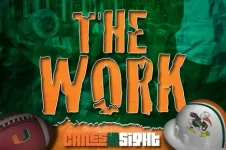 **Despite rumors of a Jordan Scarlett decommitment circulating all week on Twitter and message boards, Miami still believes that his commitment is on solid ground. A couple people close to Scarlett have told me that the Miami staff has done a great job of convincing his mother that Miami is the best place for him to be. This is the type of situation that has not gone in Miami's favor the past couple recruiting cycles, so it will be interesting to see how everything plays out.
**A very intriguing situation for Miami fans to follow right now is the staff that Jim McElwain surrounds himself with at Florida because there are a few potential hires that could really shake up Miami's class and recruiting efforts. First, if McElwain is able to retain DB Coach Travaris Robinson, that would be huge for them in the pursuit of Tim Irvin. Right now though, there is still speculation that "T-Rob" will follow Will Muschamp. The two other names to look out for at UF are Roger Harriot and Sedrick Irvin. Harriot, now the RB coach at FAU, has done a tremendous job recruiting the SoFla in less than a year on the job. His close relationship with Jordan Scarlett would throw a money wrench into things for Miami if he were hired at UF. Sedrick Irvin's name has popped up in connection with UF over the past couple days as well, although I'm not sure if he would be brought on as a RB coach or in a recruiting role. Irvin was a graduate assistant at Alabama when McElwain was the offensive coordinator, so there are strong ties there. Irvin is very highly thought of down south and this would almost certainly send Tim to Gainesville. I'm not saying that these coaching moves are happening 100%, but there are connections that would make a lot of sense for UF and it is something that Miami fans should monitor closely.
**If Miami loses Dwayne Lawson's commitment, look for the Canes to make another run at FAU commit Daniel Parr. I am told that the staff is high on Parr's ability and he has put up very good numbers the past couple of years. James Coley offered Parr back in May before Lawson committed over the summer. I am not confident that the Canes will finish with Lawson based on the fact that it is tough to land big-time QBs the year after a true freshman shows such promise. Don't forget about Jack Allison creeping in from behind either.
**Mark Walton capped his stellar senior year by scoring 5 touchdowns in last night's state championship victory over Jacksonville Bolles, giving Booker T. Washington their 3rd consecutive state title and 40th straight win. Talking to a source at Miami this week, the coaches really believe that Walton has a lot of similarities in style to Nebraska RB Ameer Abdullah and I see that comparison as well after looking at it. Walton is an inch or two taller, but both backs have elite vision and patience as well as versatility in the passing game and ability to run between the tackles. Neither have crazy straight-line speed, but their burst in-and-out of cuts really makes them tough to bring down.
**An update on the other Booker T. kids that Miami is after right now…Antonio Calloway seems to be favoring UF at the moment and Charlie Strong at Texas has really been on CB Davante Davis hard over the last few weeks. At this time, I see Calloway winding up at UF and Davis at UT. Two months until signing day so things could change, but that is the latest with those two.
**I thought this was pretty cool. Look who sent Brad Kaaya some words of encouragement on Facebook after he was announced as the ACC Freshman of the Year on Friday in Charlotte…Indianapolis Colts OC Pep Hamilton. Word on the street is that Hamilton really wanted Kaaya when he was the OC at Stanford for a year, but Head Coach David Shaw did not want to offer him. It is just interesting to see the offensive coordinator of one of the best teams in the NFL reach out to Kaaya like this and shows the type of respect he is already garnering in football circles.

**About the report that Deon Bush considering entering the draft, I would be very surprised if he does not return for his senior year based on what I've been told by people close to the situation. Duke Johnson and Ereck Flowers remain leaning towards leaving early.