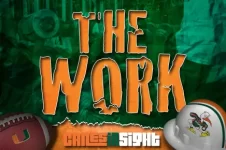 **One of the main questions that Miami fans have had is whether or not Blake James would "force" Al Golden to fire Mark D'Onofrio and if it would cost Golden his job if he refused to do so. On that note, we have speculated on whether or not Golden has total control over assistant coach moves. Per DMoney, there is a clause in his contract that gives him that power. If Golden wants D'Onofrio to stay, he will. If he wants him gone, then he will fire him.
**Sources tell CanesInSight that at this point it is nearly impossible to envision a scenario where D'Onofrio is back next season. Golden and D'Onofrio have not been on the same page this season and their relationship has become strained. Many believe that Golden has become frustrated at D'Onofrio's ability to run the defense and beyond that he is not a guy who most in the building like to work with on a daily basis.
**A source added that Golden knows what the perception is like in the media and he is not deaf to what is being said. He knows the pressure is on and needs to take some sort of action. With that being said, if D'Onofrio and Golden both return next season (again, very unlikely), look for multiple changes to occur on the assistant coaching staff. Like This current defensive staff will be drastically different next season, one way or another.
**The sense I get from talking to a number of people about Golden's job security is that it would take some sort of major collapse for him to lose the job next season. With a number of tough games left on the schedule, that is not necessarily out of the question, but as of right now my guess is that Golden will be the Head Coach next season with a new defensive coordinator.
**Every recruiting cycle, Miami fans look for a national prospect that they can dream about landing. The kid this year should be Marcus Lewis because the Canes believe like they are squarely in the picture for him. Miami continued to recruit Lewis even after he had committed to UF and that hard work is paying off. This would potentially be the best recruiting effort of Paul Williams' career if he could pull it off.
**On the other hand, Tim Irvin continues to look less and less likely. Him and Miami have grown farther apart over the past few weeks. Irvin was in attendance for the Killian-Gables game where Canes coaches were present, and I'm told that Irvin was upset that Miami coaches had not yet been to one of his games this year. Generally Miami focuses on the out of state guys so the coaches can focus on local games down the stretch, so I still expect Williams to get to one of his games in the near future.
**There was talk this week about whether or not Thurston Armbrister was a junior or senior because he is listed as a senior although he only played two games as a freshman. I can confirm that he is a senior and this will be his last season.