The rise of Joseph Jackson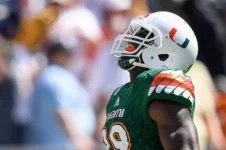 Miami's defense was on the ropes.
After allowing two touchdowns on Duke's opening two possessions, the Blue Devils faced a 3rd down and 7 less than 10 yards away from Miami territory. The 'Canes had not stopped a third down in the first quarter, but with 8:50 remaining, a freshman stopped all Duke momentum.
[TWEET]802627854940995585[/TWEET]
Jackson's sack gave Miami possession, and by the time halftime arrived, Miami found themselves in the lead. The 'Canes finished the game on a 30 to 7 run, and the defense shutout Duke for over a quarter and a half.
Miami came into Saturday leading the nation in tackles for loss per game, and left Hard Rock Stadium with yet another dominant performance from the defensive line. Miami's linebackers combined for 23 tackles; but despite their marquee performances, Shaq Quarterman, Zack McCloud, and Michael Pinckney didn't own the freshman spotlight defensively.
That belonged to Joseph Jackson.
The defensive end brought Duke quarterback Daniel Jones down twice on Saturday, and pushed his total to a team leading 7.5 sacks. Jackson currently leads the nation in sacks amongst true freshman, according to Matt Porter and cfbstats.com, and has become the versatile player Miami desperately needs.
"Joe has done a fantastic job," Defensive Coordinator Manny Diaz said. "Joe has done a phenomenal job of learning what to do in the framework of the defense, and if you look back at where he was game 1 in the FAMU game to where he is now he has really improved.
Before the season Defensive Line Coach Craig Kuligoswki said that Jackson was very "coachable" and played "extremely hard". At the time Jackson was sitting behind Al-Quadin Muhammad, and was hoping he would "get to play".
Muhammad's very public luxury car scandal saw him leave the program before week 1, and Jackson was then thrusted into the spotlight. Nerves quickly became excitement for 'Canes fans once they saw him play; however, and the freshman picked up his first sack in Miami's second game versus FAU.
"I felt like I could come in and help but I didn't know if I was going to redshirt or not," Jackson said after practice earlier this month. "My coach told me we will see how it goes during camp, and I was fortunate enough to play. I think I have been doing a pretty decent job."
Jackson has been more than decent for the 'Canes of late, and has grown up before the eyes of Hurricanes fans.
The highlight of Jackson's season came on the road against Georgia Tech, when the freshman returned a fumble into the end zone to extend Miami's lead in the second quarter.
https://www.youtube.com/watch?v=AS3cidR0cpM
Plays like that fumble recovery and the two other fumbles he forced have given fans hope throughout the year, and have created an undeniable rise which gives Miami a rock on the defensive line to rely on in the future.
Jackson will look to move his sack total near double digits in Miami's bowl game, and with his first full offseason of development in the near future, the freshman should increase his role alongside the rest of the line.