Spring Practice Day 3 Recap: Quarterback Battle and More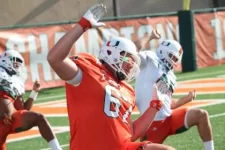 The Miami Hurricanes capped off their first week of Spring practice Saturday, and put a heavy emphasis on the quarterback battle afterwards with the media.
* Both the quarterbacks and coaches emphasized the word "consistency" over the course of the day, and made it clear that it will be a driving factor in the decision making process.
"They have to make decisions based on where the defense is aligned," quarterbacks coach Jon Richt said. "[It's] what they are doing post-snap, pre-snap, and they are doing a good job with it."
* Richt said they are trying to distribute reps as easily as possible, with Malik Rosier currently working with the first team. The quarterbacks coach says that he has set forth an environment in the meeting room where he has forced the quarterbacks to be vocal, and lets everyone speak without one person having "control of the room." When asked what it will take for anyone to become the starting quarterback on the team Richt said it all comes back to the theme of consistency.
"They will have to be the guy that not necessarily has the best skill set or anything," Richt said. "But he is gonna the most consistent player that is going to get us to the right play, make the right decisions, and he is gonna get us, day by day, play by play -- he's gonna get us in a position to win. He is gonna take care of the football and be consistent."
* In regards to freshman quarterback Cade Weldon, Richt said "for a freshman he is doing a great job" of buying into the program, and credited his composure at the line of scrimmage. Veteran quarterback Malik Rosier offered the most interesting insight into Cade Weldon's development on Saturday, while discussing his learning curve.
"He's coming along," Rosier said. "He gets so frustrated because he was like me in the spring, struggling, just couldn't get it because the defense is moving so fast, the offense trying to learn it so fast."
"I told him take it one play at a time, like if you don't know back up, wait a second, if they yell at you and scream fine that is good, but as long as you know what you're doing every snap that is the biggest thing to learn. Honestly, once he figures out what he's doing [he'll be good], he is doing a great job completing balls, going through the right reads, hitting the right guys -- so Weldon is coming along very well."
* Malik Rosier also continues to impress as the veteran looking to take over the job. Jon Richt said that with his athleticism and arm, he can perform well if he controls his decision making and said he has done so thus far in the first week of Spring. Rosier said he has "tremendously" lowered his body fat, and mentioned that the conditioning program has done wonders for all the quarterbacks as a whole. Despite the hype surrounding the competition, Rosier said he embraced the battle.
* As the theme continued, Rosier said that consistency was the aspect he is working on the most this offseason, and is focused on "leading by example" as a veteran. The competition has been treated as "wide-open" in practice all offseason, and Rosier stressed just how important every day is.
"If you take off one day, and you have a bad day, you might go from first to second, first to third or first to last [on the depth chart]," Rosier said. "Point is that if you don't bring your A-game you will definitely fall back so that is one thing. These guys motivate me to be great and get to studying my playbook every day."
* Jack Allison said that after taking last year seriously, this year is about working hard and doing the right things in practice. Allison said his main goal is to show the coaches that he knows the playbook and what he is doing on the field. The 6'5" quarterback says that he has matured into a very confident player under Miami's scheme, and has a grasp on what is going on.
* Sophomore Evan Shirreffs stressed the wide-open nature of the battle, and what it looks like moving forward.
"It's definitely nice competing for a starting job with my fellow quarterbacks," Shirreffs said. "But it is really nice to be out there competing every single rep."
After speaking about the quarterback battle, Mark Richt stepped up to the microphones and talked about the freshman that have impressed him so far, including the offensive lineman who fans are already calling a "man child", Navaughn Donaldson.
[TWEET]
845669721039089664
[/TWEET]
* Richt said he was also impressed with Jonathan Garvin due to the way he has handled his workouts.
[TWEET]
845670492623327232
[/TWEET]
* When asked about DeeJay Dallas, Richt said his ability to reach out and catch the ball is where it needs to be.
"One thing I really like about him is he will reach out and snatch the ball," Richt said. "So many kids wanna let the ball come to their body, catch it in their body, so what happens is if you catch it in your body, and the defender is behind you, he will swipe it. But if you reach out here and snatch the ball that DB's hands are back here somewhere … just that skill alone, if they don't have it, it is hard to teach."
* Richt also said the team held up well in their first day wearing pads, and said he was "very pleased" with their performance. Richt said the energy in practice is where the coaches want it to be, and with the first week of spring practice in the rearview mirror, the 'Canes are making progress.