Speedster Schwartz talks relationship with Rumph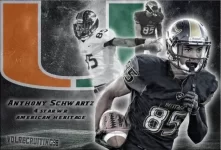 It's been a busy few weeks for American Heritage football standout and track phenom Anthony Schwartz, who has picked up offers from Miami, Florida, Oregon, Auburn, and UCLA amongst others in the past month.
Schwartz plays both sides of the football for Heritage but it looks like he will be utilized primarily as an offensive playmaker at the next level.
"I'm alright with playing defense, but I prefer playing offense," Schwartz said. He added that he likes having the ball in his hands to make plays. The speedster says that his biggest focus in the offseason will be improving his route-running.
"I want to be able to cut after running full speed, without having to slow down," he said. "I think I'm really close to being able to do it. I'm focusing on being able to run a full speed come back route and then have the ability to stop on a dime and turn right away."
[HUDL]video/3/4409434/584d8eb6dfd8b814040cea7c[/HUDL]
Schwartz will be at Miami's junior day on Saturday, which marks only his second time on campus. Interestingly enough, his first trip was actually as a track recruit. So naturally, the top thing he hopes to take away from this weekend is building relationships with Canes coaches, but in particular the head man.
"I have a great relationship with Coach Rumph since I was little because he used to coach me in optimist," Schwartz said. "Me and Coach Dugans have been talking a lot and we're building a better relationship. I want to build one with Coach Richt because you always want to have a relationship with the head coach."
"It seems like he's very laid back and understanding. He also supports dual-sport athletes."
Miami's strong in-state start for the 2018 class could be a sign of things to come for the recruiting cycle, as nearly all of the Canes' top targets are local. According to Schwartz, he believes that the coaching staff is the reason.
"Coach Richt knows how to recruit down here and the other coaches on staff know too. We already have relationships with guys like Coach Rumph," Schwartz explained.
"Coach Rumph is very big in the process for me because I know if anything goes wrong, he'll have my back. I know I can talk to him about anything if I end up going there."
On the track, Schwartz's personal best in the 100M is an elite 10.26. He says he is aiming for 10.02-10.03 this season and 20.2-20.3 in the 200M. Football will only be half the decision for Schwartz as he makes his decision. Luckily for Miami, Track and Field Director Amy Deem has some of the best accolades in the country.
"Track is a big thing for me. I want to know if a coach is going to let me do both," he said. "She coached in the '08 Olympics and she actually was Coach Rumph's coach when a bunch of guys on the '01 team ran track."
Schwartz is planning to see UF, Auburn, UGA, and FSU this spring as well.