Sheldrick Redwine is "an old guy" during a new era in Miami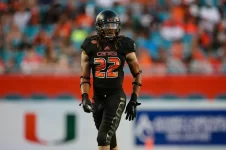 A different aura has surrounded the University of Miami football program since Mark Richt took over in December. It has only been less than a year since Miami's 58-0 defeat at the hands of Clemson in October, yet much more has changed this offseason than days on the calendar.
With the departure of players such as Artie Burns to the NFL draft, a new breed of players have had to learn a different coaching staff, scheme, and way of life on campus.
But despite all this change that has taken place within Miami's football program, sophomore defensive back Sheldrick Redwine is the same, consistent, guy.
"I don't think of Redwine as a young DB," defensive coordinator Manny Diaz said after practice today. "Even though I know he has only been on campus for 15 months, he's an old guy for us, because he has been in a college stadium before."
After practice on Thursday, Redwine said he has done a lot of work at cornerback with the 'Canes first-team, and has also worked hard this offseason to improve every part of his game.
"I've developed well," Redwine said. "Going through summer workouts -- I'm bigger, faster, stronger, and I don't put up numbers this year that are the same as my numbers from last year."
The theme of this offseason has become consistency for the second year cornerback. According to Manny Diaz, Redwine has improved because he is the same player in practice every day.
"What I like about Redwine is that he is the same guy every day," Diaz said while praising the consistency of his young defensive back. "He is a consistent worker -- works hard, very coachable, tries to do the technique exactly the way that Coach Rumph explains it to him, and that is what that position is about."
During Richt's short time on campus, Redwine has embodied what Miami needs at cornerback. As Diaz put it, "It is not about who can flash, it's about who can do it consistently down after play."
Hard work and consistency are traits Richt and his staff have been trying to hammer into this program, and Redwine could be ready to display his progression on gameday. At 6-1, 195 lbs, Redwine presents the prototypical tools to make an impact at this level, and Miami's influx of young receiving talent has helped him get better every day.
"Going against them every day, you know, we always say between the corner group we probably face the hardest receivers we gonna face in practice," Redwine said one day after Miami's first scrimmage. "After going against them guys, when we go to the games, we feel like every other receiver is going to be [easy]."
Whether the reason is because of his consistency, Miami's new scheme, or his tough competition in practice, Redwine has turned a corner and become an integral part of Miami's defense.
"A guy like Redwine is a personality you like to have on your defense," Diaz said. "Because that [consistency] is really what he embodies."