Safety target Amari Carter: I'm a South Florida dude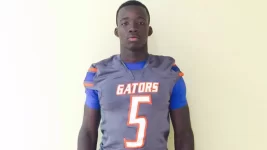 Palm Beach Gardens safety Amari Carter (6-2, 175) is one of the top players at his position on Miami's recruiting board.
As a 3-star recruit, Carter has received a lot of attention over the past few months from the likes of Clemson, Notre Dame, and Miami – three schools that he said stand out for him right now. The LSU Tigers have also gotten into the mix, as Les Miles offered Carter two weeks ago.
"It's a great feeling to be recruited like this. I wasn't used to it before recently, but I just take it as a blessing and a humbling experience," said Carter.
Carter is a self-proclaimed "South Florida dude", so where do the Miami Hurricanes chances stand?
"I talk to the Miami coaches everyday. I have great relationships with Coach Banda and Coach Baez, and I'm talking to Richt on a regular basis," said Carter. "It's easy for me to get down there and it's a family environment. I feel comfortable with everybody there whether it be the coaches, the players, or anyone else in the building. And they are bringing in the new facility, which is just another thing to look forward to with the program."
Playing close to home could eventually be a factor in Miami's favor, but Carter was not willing to say that it would be the ultimate reason for him to choose the Hurricanes.
"My mom would love for me to stay home and be down the street so that she could come watch me play, but I also know that she will support me wherever I decide to go," he explained.
What could end up turning things in Miami's direction though, is Carter's tight bond with safeties coach Ephraim Banda.
"Coach Banda is the type of guy who will get along with anybody that he meets," Carter said. "When I went down to check out practice, he looked more energetic than anybody on the team. He looked like he had pads on."
Highlights
:
LIVE 5 JUNIOR SEASON - AMARI CARTER highlights - Hudl