Richt's thoughts after Wednesday practice (App. State week)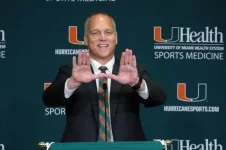 Mark Richt addressed the media following Wednesday morning's practice in preparation for Appalachian State. Some of the notables below.
**Richt gave his thoughts on today's practice.
"Hard work day. We got to practice the whole day without having to go inside, that was nice. I thought we were a lot better. We still got a long way to go overall, but we were a lot better, just in terms of the energy, the attitude, the pace of practice, the whole thing. Scouts did a better job. Towards the end, it got a little sloppy, which you hate. More tired, the second half, it's overtime - can you function? We're trying to teach them. We have to be ready for those things. But it was better, it was a better effort."
**Richt on the potential effects of crowd noise on his offense.
"First time crowd noise against us - that's new. We've practiced it a lot - all spring, all fall. But we haven't really had the reality of the noise. We're going to pipe it in here tomorrow, make it as loud as we can and do our best to simulate the crowd noise we'll have. The goal is to make it louder than we can hear each other."
"Something happened today - I'm not going to say exactly what - that, you know what, if it's loud, we have a problem. We have to make sure we know exactly what to do. That's why you practice. Something will pop up and you're like, 'I didn't think of that. I should have thought of that, but I didn't.' Anyway, those kinds of things happen. Good thing we still have tomorrow to iron it out."
**CMR noted that most of the responsibility is on the quarterback when dealing with crowd noise.
"The noise affects one guy the most - that's the quarterback. Does he have the poise to handle the noise? Does he have the poise to handle all the nonverbal communication? Does he have the poise to handle it when [fans] go ballistic, the first time something good happens for their team? That's the biggest key of
playing on the road, in my opinion. Brad [Kaaya] has been through it. I'm not worried one bit about how Brad is going to react to anything that might come up."
**Richt on Darrion Owens' progress as he continues to work towards 100% with his knee.
"I watched him a little bit today. I would say he still has a little bit of hitch in his giddy-up, so to speak. But he's moving a lot better. When the ball was snapped in the game [against FAU], he wasn't even thinking about it. He moved really well."
**Richt was asked if he has noticed Kaaya struggling in play-action situation, to which he said…
"He dropped straight back in the pocket on the flag route to [Stacy] Coley and was just in the shotgun, he was wide open and he missed him. I don't think it's that...the bottom line is we have to get in the pocket, in the right spot, whether it's play-action or just gun and straight dropback, or straight dropback under center - we do a little bit of that too. We have to set the point in the right spot, have a short little hitch in the pocket, and start operating from there."