Richt talks spring practice #1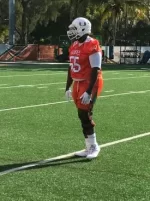 (Navaughn Donaldson)
Mark Richt met with media after the first practice of the spring today. Here are some notable moments from his press conference.
He was not completely satisfied with the team's conditioning on day one.
"When you stick spring break in between, I'm not sure if they're quite at the condition they left us, so a couple guys struggled – mostly young guys," Richt said.
"It's very obvious who the midyear guys are, as far as just knowing what to do, how to practice, and knowing the kind of effort and tempo it takes," he said.
Richt said that he is not a coach who likes to add conditioning to the end of a practice because he wants the conditioning to happen during the practice itself.
"We tested a lot of guys today," Richt added.
As the quarterback race will be the center of attention, Richt said today that he would not make a decision this spring and will most likely wait until after the second of third scrimmage to name a starter.
[TWEET]844215490662883329[/TWEET]
How did he assess day one for the group?
"It's a day one installation so it's not a super complicated installation for guys who have been here for a whole season."
Richt said that for Cade Weldon, a January enrollee, he might not be up to speed just yet, but also showed that he is learning. "His head is swimming a little bit. I think Cade did pretty well – he got a good amount of reps in our pass skeleton," he said.
"We're going at a veteran pace and he's not a veteran yet so I thought he did pretty decent."
"Jack (Allison) threw the ball very well, actually. I was impressed with how he threw."
Richt went in-depth on the situation at receiver this spring, but noted that things might look a lot different come fall practice with the arrivals of Jeff Thomas, Mike Harley, and Evidence Njoku.
"It looks a lot like a year ago as far as the lack of depth, but we've got three or four guys coming that we know can make a difference with our depth. You add Cager coming back, that would be four guys who can change the depth."
Richt also made specific comments about a few other young Canes receivers.
"One guy who caught my eye was Mullins. He's much more sure about what he's doing, he's in good condition, and he made some nice catches," Richt said.
"Deejay Dallas actually showed that he has the ability to snatch the ball well and catch the ball away from his body. He's still lost though and he's definitely still not in condition to go as hard as we want to go around here at practice, but he had a few bright moments."
Miami's first group of offensive linemen in positional drills today:
[TWEET]844184297821163520[/TWEET]
Richt commented on Donaldson being with the first team.
"We worked him some with the ones just to get him a veteran next to him. Sometimes if you throw all the young linemen in there, if we threw him and Dykstra side-by-side, it's not good. We wanted to balance it out with some veteran players."
Also of note:
[TWEET]844215352078884864[/TWEET]