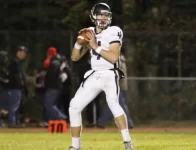 Mark Richt hit on his top target at quarterback for the second straight recruiting cycle as IMG QB Artur Sitkowski (6-4, 215) committed to the Hurricanes on Saturday night.
[TWEET]835673590666178560[/TWEET]
Sources told CanesInSight last week that Sitkowski was leaning towards a possible commitment this weekend. Richt expressed his excitement as well.
[TWEET]835682173378314240[/TWEET]
This is Sitkowski's first season at IMG. He is transferring from Old Bridge, New Jersey. Last September, he said, "I really believe in what Coach Richt is doing down there. I love his history of working with the position," he said. "Seeing that he gives freedom to the quarterbacks if you earn his trust is music to my ears."
That full article can be seen here:
https://www.canesinsight.com/thread/canes-recruiting/102212
On last week's CanesInSight podcast presented by CanesWear, Sitkowski's 7-on-7 coach broke down his game.
[SOUNDCLOUD]309269222[/SOUNDCLOUD]
Sitkowski is slated to throw at tomorrow's Nike Miami Regional Opening, where he hopes to earn an invite to the Opening. CanesInSight will have full video and reaction from him tomorrow.