Richt assesses Perry after first practice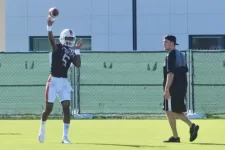 Mark Richt broke down what he saw from freshman QB N'Kosi Perry after fall practice
#1
.
"He's got very good passing fundamentals, which is what I thought. I've seen him throw at camp and 7-on-7s, but in the context of what were asking him to do, he really does have good quarterback passing fundamentals. Not a lot of wasted motion, he's got nice zip on the ball, he understands touch. He's a passer, not just a thrower."
Perry seems to be on par with what is expected of him physically, but the question remains is he understanding the concepts, language, and everything that comes with leading an offense at the quarterback position.
"I'd say he's getting about 50% of it, which is probably pretty good for the pace were going at," Richt added. "We'll install at a pace that's faster than comfortable for him, but he'll catch up."
Richt said that Malik Rosier and Evan Shireffs ran the first team offense today, with Perry and fellow freshman Cade Weldon running the 2nd and 3rd units. Richt also said, "we may continue the same rotation, but I'm not sure."