Rayshawn Jenkins' eventful career culminating in opportunity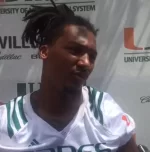 When Miami's 2016 defensive backs are looked back upon in the future, youth will be an overlying theme that towers above the rest. Sophomore safety JaQuan Johnson and sophomore cornerback Sheldrick Redwine are both set to get significant playing time, and several freshman are developing their game behind the scenes.
But while Miami's young talent may be grabbing future headlines, the 'Canes veterans will be making an impact on how this year's team fares.
And one senior who has as important a role as anyone defensively is Rayshawn Jenkins, who has stepped up throughout the offseason, and become a leader for the team.
"I had to step more into that vocal role [this offseason]," senior safety Rayshawn Jenkins said regarding his role after practice. "Now I feel really comfortable with the team and the teammates I have and the coaches I have."
Jenkins' career as a 'Cane has been a roller coaster during the last four years, and has included many personal challenges. Coming off a great 2013 sophomore season, Jenkins suffered a devastating injury that required him to get surgery in August of 2014, and miss his entire junior year.
The 6'2" safety battled back onto the field last season, but even he admitted that it was difficult for him to trust his body post-injury.
"I feel like last year I wasn't really doing as much," Jenkins said after a shortened Miami practice on Saturday. "Because it was my first year back from my injury, and you know, I didn't really know how to -- well I wouldn't say I didn't really know, I just didn't really feel comfortable doing that [playing football] at the time."
But while Jenkins finally began to feel comfortable with his injury, another change came that he needed to adjust to.
The head coach that had recruited him, Al Golden, was fired, and a new staff was arriving in Coral Gables.
As a 5th year senior Jenkins has one year remaining of eligibility, but the short amount of time he has left on the field did not deter him from embracing Miami's fresh start.
"Rayshawn -- I'm so proud of that young man," Miami Safeties Coach Ephraim Banda said to me this past week. "He could have easily, as a fifth year senior, said 'eh I don't trust this guy' or 'eh whatever', because it's easy. But that young man has opened his arms to me."
Jenkins has shown a willingness to lead so far, but his enthusiasm all goes back to his desire to improve.
"I always have a knack to learn," Jenkins said regarding his mindset this season with a new coaching staff. "If there's anything new to learn, I'm ready to learn it right now. And I feel like they came in, and they genuinely showed us that they were good people. So when you show us that, we care, and want to learn from you."
But while Jenkins is focused on learning from Miami's new coaching staff this season, he is also concentrated on leading those underclassmen around him.
"I've been through what they have not been through," Jenkins said. "I've been through the losses and I've been through the wins, and you know, I know what both of those feelings feel like, and I know I don't want them feeling the feeling of a loss."
As he stated, Jenkins has felt the feeling of a loss both on and off the field, but going into his senior year, he knows the path to success as a defensive back is simple.
"Just play hard, tackle well, be consistent; everything else follows."