Out of state OL Bateman planning Miami visit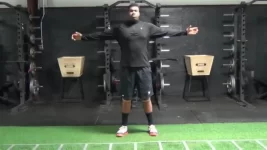 Miami's search for offensive linemen in the 2017 class continues. One name emerging as a serious target for Canes coaches is 6-8, 305-pound Toryque Bateman from Gadsen, Alabama. Three three-star offensive tackle is being courted by Louisville, Mississippi State, and Michigan, amongst others.
Bateman told CanesInSight that he speaks frequently with both offensive line coach Stacy Searels and head coach Mark Richt.
"They just tell me how they feel about me and tell me that I'm very high on their list, if not at the top," Bateman said. "Coach Richt is a laid back, chill type of guy – he's very cool. He's not uptight."
The offensive tackle prospect admitted that early playing time is "very, very high" on his priorities. He added that he wants to play, "as soon as possible". That is one aspect working in Miami's favor.
"They don't promise me playing time, but they do say that when I come in, I have a great chance to come in early," he said.
Bateman camped at Florida State and Florida over the summer, but has never been to Miami – that looks like it will change soon.
He has not decided on dates, but Bateman says that the only official visits he has planned are to Miami, Louisville, and Michigan. He left the door open to visiting other schools as well.