OL Hayes assesses first Miami visit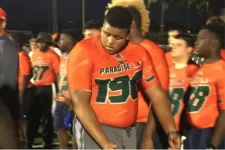 Miami's Paradise Camp over the weekend brought prospects from all over the country to Coral Gables. The biggest prospect on campus though, had to be 6-6, 330-pound OL Marquis Hayes out of Maryland Heights, Missouri.
Miami offered Hayes about a month ago and it seems like the trip opened up his eyes about the Hurricanes.
"It pushed them up there a good amount. You always want to go check a place out before you say you're going to make a commitment or stuff like that," Hayes said. "I feel like that was a big-time experience for me to be able to get to know the coaches and meet the players and get to see the outlook of Miami for the first time."
He said his favorite moment of the weekend was getting to know Miami's other recruits, but the chance to meet a couple of NFL Hall of Famers wasn't bad either.
"The part where we were just bonding together at the barbecue was crazy. It was cool to see that they bond chill down here by swimming and barbecuing and stuff that I'm
not used to seeing," he said.
"I've never been around so much legendary talent at once. I've never met somebody like Ray Lewis or Michael Irvin, so that was big-time for me to be around that atmosphere."
Hayes had a dominant performance during Saturday night's camp portion, where he was able to learn more about the Hurricanes staff.
"Getting able to work with the coaches in camp was a big part of it. I wanted to see how Coach Searels preached. He's a cool personality – he was making jokes, but when you get on the field with him, he's really a good coach. He coached us like we were in college right now," Hayes said.
"Meeting Coach Richt is something you look back on and say 'wow that's Coach Richt, he's big-time'. I got to see how his character was in the conversations we had and he's just a really cool guy."
The big question that remains for Hayes following his visit is how he thinks he would be able to adjust to the Miami lifestyle compared to the humble Midwest that he's used to. Did this visit clear up that uncertainty?
"It can do both sometimes because it can excite you like 'wow, this is Miami and I have a chance to play here' and then you look at it like 'this would be a big jump for me
coming from the Midwest and am I ready for the city and will I be able to control myself?," Hayes explained.
"My dad said Miami is Miami. He likes that it's a big program, but he told me it's up to me to see if I can focus down there. He's behind me 100% with whatever I decide, but he wants me to be able to focus if I go away from home like this."
Besides the obvious hurdle of Miami battling his hometown school Missouri, Hayes seemed excited about the possibility of seeing the field early in his career if he chose the Canes.
"I kind of saw the talent they have there and I can tell they need some more offensive linemen. That was a concern of mine that I was looking at so now I know I can possibly get playing time early if I go down there," said Hayes.
According to Hayes, Miami is "definitely" in Hayes' top five, which he estimates will be rounded out by Oklahoma, Missouri, Illinois, and Iowa State. He added that he plans on taking an official visit back to Miami and is looking at possibly committing in the middle of his season, although he had originally planned on waiting until signing day.