NC State Gameday - Week 5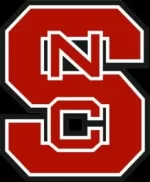 The Canes (3-1) return home to face the Wolfpack of NC State (3-1). It's nice having 3 wins in September, but 4 wins is better than 3. That's why I hope this team leaves last week's win in Atlanta...in Atlanta.

Since 2009, Miami is 0-4 the week following a win over Georgia Tech. And for the past decade, Miami seems to be in a constant up and down, week to week roller coaster because they can't focus on the next opponent following big wins. As Winston Wolfe would say:



We're favored by 3 which seems more than fair considering right now, there isn't a whole **** of a lot of difference between the two teams when it comes to talent. This game is also sandwiched between an emotional win and rivalry game with Notre Dame. So there's definitely the possibility for this team to be either looking ahead, or feeling too good about themselves from last week.
Given all of that, this is about as close to a "trap" game as we can have.

Here's to hoping Golden has their heads on straight this week.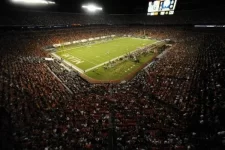 Where: Joe Robbie/Pro Player/Dolphins/Dolphin/Land Shark/Sun Life Stadium

Who: Miami Hurricanes (3-1) vs NC State Wolfpack (3-1)

W​hen: 12:00pm/et

How: TV
- ESPNU


4 storylines for UM in this game:


1. Can Morris stay hot?
2. Will Duke have another big day?
3. Can the secondary hold up?
4. Will there be any letdown after an emotional win?


Morris had a career day last week. Now I want to see if he's capable of stringing a couple games together, or if he was just picking apart a bad secondary. Seeing the team play a full 60 minutes would be nice too.

Last time they met: November 29, 2008. NC State won 38-28

What people were saying during the subsequent meltdown:
We weren't around 4 years ago, so I turned to CanesOverHere again for reference.


DCF in LA said:

The General said:

GoCanes a lot of guys on this board agree with you but i don't. I just like Marve's game better.

What the **** do you like about his "game" ? The fact that he's scared to throw to receivers that aren't wide open? The fact that he's a one-read and run chicken****? The fact that the coaches have absolutely no confidence in his ability to throw the ball to the wide receivers, which makes it that much easier on defenses to defend us??

****'s sake, The Geritol, Marve is no way no how THAT much better than Harris. At least Harris is not afraid to throw to guys that aren't wide open. He's willing to sit in the pocket and not take off and run at the first hint of pressure.

That said, I really don't care who starts next season just as long as we have ONE QB. No more rotating bamboozle, this is absolutely killing us in terms of developing a rhythm.

I'll say one thing about Marve today: Shannon should absolutely NOT have taken him out of the game in the first half. We scored TDs on two successive drives that Marve led, the offense looked like it was in a groove, and we ruined that by flip-flopping. Harris throws a pick in the red zone and we're behind the 8ball again.
2 things about what DCF said back then. First, boy did the bolded portion ever end up being Jacory's undoing. And secondly, I completely forgot about the musical QB's aspect of the Marve v. Harris debacle. Randy was shoehorning J12 in there and saying he left him in because he got hot, but if/when Marve got hot, it never prevented Randy from shoving Jacory in there. I'm just glad that chapter in UM history is over.

Know your enemy:
Backing the Pack
What they're saying:
Akula Wolf said:

The

Miami Hurricanes

' offense is off to a solid start to 2012 -- the team is averaging a shade over six yards per play, and three of their first four games were against major-conference opponents. The red zone, though

has been a bit of a problem early on

. They've scored a touchdown on just half of their visits to the red zone, which ranks

88th nationally

. Quarterback

Stephen Morris

has been pretty solid this year, but he's missed in some key spots.

88th? Geez that's horrible.


Miami Notes:
1.
UM needs to fix it's redzone woes.
2. Davon Johnson is stepping up.
3. It took 5 years for Ben Jones to get an opportunity and he nailed it.


NC State
Notes:



1. NC State hardly knows Miami.
2. CJ Wilson is ready to return after suspension.
3. NC State has a freshman star RB too in Shadrach Thornton.

Favorite NC State related Image, Photoshop, or Gif
: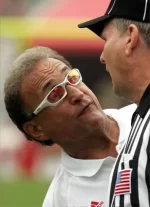 Chuck LOLmato...what a joke.
Extremities/Suspensions/Funerals:

Miami 2-deep depth chart

Injuries:
Miami Hurricanes

| | | | | |
| --- | --- | --- | --- | --- |
| Player | | Injury | Status/Updated | Notes |
| Curtis Porter | DL | Appendix | Questionable - 9/24/12 | Porter missed every game this season because he is recovering from an appendectomy. He remains questionable to play this week. |
| Denzel Perryman | LB | Ankle | Doubtful - 9/24/12 | Perryman suffered an unspecified injury vs. Bethune-Cookman. He did not play against GT. He is doubtful for week 5 against NC State. The sophomore is the team's leading returning tackler from 2011. Former starter Jimmy Gaines will compete with Gionni Paul for the starting job this week. |
| Dalton Botts | P | Ankle | Probable - 9/24/12 | Punter Dalton Botts left the game with a sprained right ankle against Georgia Tech. He will begin kicking again on Thursday, but his status is doubtful for Saturday against NC State. |
| Raphael Kirby | LB | Leg | Probable - 9/24/12 | Kirby injured his leg in practice and will be out awhile according to coach Al Golden. The freshman won't require surgery on the knee and coach Golden hasn't ruled him out from returning this season. |
| Malcolm Lewis | WR | Ankle | Out for season - 9/23/12 | Freshman wideout Malcom Lewis went down with a dislocated ankle on Saturday against Georgia Tech. He is out for the year. He caught 8 passes for 73 yards and one touchdown this season before the injury. |
| Sean McNally | LS | Knee | Out for season - 9/17/12 | McNally injured his knee on punt coverage after our first possession against Bethune-Cookman. The required surgery has ended his season. |
| Ramon Buchanan | LB | Leg | Out for season - 9/10/12 | Cookie's career is pretty much done. He apparently suffered some injury during the Kansas St. game, no clue when it happened. |

NC State
2-deep depth chart


Injuries:

NC State Wolfpack
| | | | | |
| --- | --- | --- | --- | --- |
| Player | | Injury | Status/Updated | Notes |
| Robert Crisp | LT | Undisclosed | Out Indefinitely - 9/23/12 | Crisp missed the last two games with an unspecified injury. The left tackle was injured during the season opener. Crisp was held out against the Citadel and is questionable against the Hurricanes. Sophomore Tyson Chandler started the last three games in his place. |
| Andrew Wallace | RT | Foot | Out Indefinitely - 9/23/12 | Injured foot last week against Citadel. |
| Mustafa Greene | RB | Suspended | Questionable - 9/23/12 | Greene was suspended shortly before the week three kickoff and missed the game against the Citadel in week 4. He is questionable this week against Miami (FL). The sophomore was leading the team in rushing through the first two games of the season. He redshirted the 2011 season while recovering from a foot injury. |

NC State has two starting Offensive Tackles out for this game. Their O-Line has given up 12 sacks to Glennon so far this year, so UM should be able to get some pressure on him. Who am I kidding?


Gameday Character:


Don't you dare get caught looking ahead.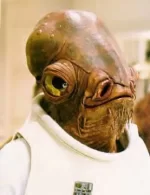 Bow Bow


Lets Go Canes!