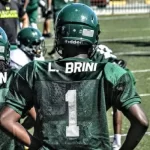 Miami's focus at defensive back right now is on the following prospects:
Corner
Chris Henderson, Jr. - Columbus (Miami commit)
:
2015 Junior Year Highlights - Christopher Henderson highlights - Hudl
Shawn Davis - Southridge (UF/Miami battle)
:
Highlights - Shawn Davis highlights - Hudl
Marco Wilson - American Heritage
: Soph. highlights (sat out junior season with knee injury)
Sophomore Highlight - Marco Wilson highlights - Hudl
Latavious Brini - Mater Academy (Miami lean)
:
Junior Season Highlights - Latavious Brini highlights - Hudl
Safety
Daniel Wright - Cardinal Gibbons (FSU leads/Miami quietly in race)
:
Junior year highlight - Daniel Wright highlights - Hudl
Amari Carter - Palm Beach Gardens (Miami in good shape/ND pushing)
:
http://www.hudl.com/athlete/3434041/amari-carter
Billy Gibson - Southridge (Miami commit)
:
http://www.hudl.com/athlete/5205566/billy-gibson
Cyrus F'agan - Daytona Mainland (FSU commit/Miami still on him hard)
:
http://www.hudl.com/athlete/3901726/highlights/215491377
Juwan Burgess - Tampa Plant (Miami in good shape)
:
http://www.hudl.com/athlete/3240052/highlights/71206375
First thing that sticks out when you watch all these guys is that they all have size and physicality. At corner, they absolutely need Henderson to stick. He will rise in the rankings before it's all said and done. He has only played five snaps in his HS career at corner, but his speed is game-changing, especially with his length. Shawn Davis is not a lockdown guy yet, but has the physical tools to become one. Marco Wilson is special. The staff's job is to convince him that Miami's issues with Quincy (his brother) were not their doing. Brini's length is imposing. He has a lot of Sheldrick Redwine in him.
At safety, you have to like the versatility of this group that Miami is after. Wright, Gibson, and Burgess have the ability to play in the box, which you will see utilized a lot more in this defense. ***an is committed to FSU, but Miami continues to stay on him. Apparently he is a big fan of Banda. Burgess plays both ways at Plant, but his upside is on defense.