Miami staff a big factor for Al Blades, Jr.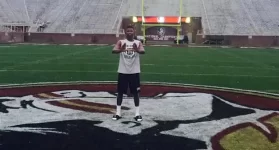 Just a few days ago I wrote that American Heritage has arguably the best secondary in the country. They still might, but St. Thomas Aquinas just made that discussion a bit more interesting. Little did we know that Brian Edwards would be transferring from Miramar and heading to STA. Along with the 2017 DB Edwards, Aquinas is equipped with a couple of premier corners in Al Blades, Jr. (2018) and Asante Samuel, Jr. (2018).
Blades, Jr. a Miami target and Canes legacy, is excited about the group's possibilities, but knows they haven't accomplished their goals yet.
"It's great to have all the talent that we have, but we still have to work together to get everything working right," said Blades, Jr.
"I know Brian is going to bring an aggressive game with speed, length, and he's gonna cover a lot of ground. It's great knowing you have a safety back there who can cover your back," he added.
Blades, Jr. was formerly committed to the Hurricanes, but decommitted after Al Golden's firing. In a short period of time, it appears that Mark Richt has impressed the 6-foot, 170-pound defensive back.
"It's a totally different operation. I feel like he's trying to implement more of a competitive team. He's trying to get it back running how it should be and I see the community getting behind him," Blades, Jr. said.
With a group of programs such as Miami, FSU, Alabama after him, Blades, Jr. still wants to wait some longer before he starts to narrow down his list.
"I'm waiting until September 1st when coaches can really communicate and I'll be able to see who really wants me and be able to see which coaches want me in their secondary," he said.
Blades, Jr. is taking note of his how the recruiting classes are shaking up across the country this year.
I'm looking at a lot of guys committing, especially the 2017 class because that can really show where I'm gonna land. I'm not really worried about anybody from my class.
The legacy Cane says he see a big difference in the community with their support of Richt – it does not necessarily surprise him.
"When he first got hired, he was immediately in the community. He was going to games, talking with us up and close personal. That's basically what you need to do to recruit in the golden ground of recruiting," he said.
"I feel like a lot more UM fans are behind him and that's a great thing."
And potentially the biggest factor in Miami's favor is cornerback coach Mike Rumph.
"It means a lot that he's there. He played with my father, so that has a lot to do with a lot of things. He's a great coach and we have a great connection, so that means a lot to me that he's at Miami."
[HUDL]athlete/4285146/highlights/313142424[/HUDL]