Miami rolls out the academic red carpet for Carter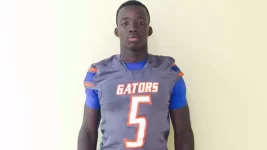 Most of the attention of Miami's Paradise Camp has been put on some of the NFL greats who were guest coaches or speakers at the event. The Hurricanes coaching staff had an even more detailed plan for top safety priority Amari Carter, who spoke about his experience with CanesInSight.
"Right when we got there, I had a meeting set up with the President Julio Frenk," said Carter.
"I was the first football player (recruit) to ever meet with him. It was a great honor to meet him because he's coming from Harvard. Just listening to some of the stuff that he's accomplished in his career, it was like 'wow, I'm talking to someone that has done all these great things'. He was soft-spoken and he really cares for his student-athletes."
With academics obviously an important aspect of Carter's decision, the Miami staff made sure that his family was involved in the meetings as well. His brother and mother were along for the weekend.
"My older brother just graduated from SMU and he's going overseas to China to teach English, and then when he comes back he is going to grad school. He was there during all of my meetings and he had a lengthy talk with President Frenk because he was in global health and that's what my brother wants to do," Carter said.
"My mom and Coach Banda's wife were chilling most of the time. She really enjoyed it and she loved the attention that they gave her. She has a high expectation of Miami and we have a great feeling from what we saw."
His potential future position coach seemed to rub off on him during the weekend.
"Coach Banda and his wife are really good people," he said. "Their actions and personalities speak for themselves. Everybody there was positive-minded."
Not only did Carter get a face-to-face with Miami President Julio Frenk, but he got to meet with an administrator from the business school.
"We met with the Vice Dean of the business school because that's what I want to study and she asked me what I valued in life," Carter said. "She didn't sugar coat anything about the school and told me what Miami the school valued. Fortunately enough, what I value was basically the same thing, which is family and relationships."
The Palm Beach Gardens safety said that he is inching closer and closer to an announcement regarding his commitment.
"I do feel like I'm getting closer and I'm understanding that time is ticking and how much time I have left. It will be between September and October. I'm going to check out a couple other schools before I make the announcement around then."