Miami picks up 2017 ATH Henderson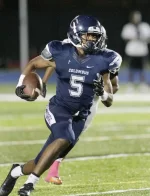 Miami picked up a big-time commitment yesterday for the 2017 class in Christopher Columbus ATH Chris Henderson, Jr., as first reported by CanesInSight.com. An electric athlete from the Cutler Ridge area in Miami, Henderson hopes his commitment brings a string of luck to the Canes recruiting efforts.
"The coaches told me I could start it off and get the rest of the recruits to come to the class," Henderson said.
The 6-1, 177-pound athlete said that two names he will try to lure to Miami with him are Southridge defensive backs Shawn Davis and Billy Gibson, both of whom are top priorities for Mark Richt's coaching staff.
Henderson is used all over the field for the Explorers, on both sides of the ball and can be a weapon in the return game. Miami is recruiting him as a defensive back.
"I feel like I can play it because all of the coaches tell me I'm a 1st round-pick at corner. It doesn't really matter what position I play, but in college I will play corner."
The newest "Squad 17" member feels like Richt is finally the coach who will get things going in Coral Gables.
"He's a cool guy. I feel like I can practice with him for four years and he can bring the U back."
Henderson also seems excited to get to work with his future position coach Mike Rumph.
"He was a cool guy and made me feel comfortable. I know he can be a good coach because he played at UM and has the experience."
Henderson's highlights -
2015 Junior Year Highlights - Christopher Henderson highlights - Hudl