Miami legacy Gaiter ready to show his ability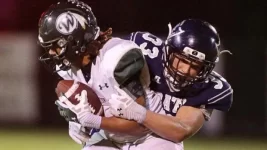 2016 Westminster Christian ATH Elbre Gaiter (5-8, 170) has flown under-the-radar the last couple years, but heading into his senior year he is ready to show that he is a big-time prospect.
Last season, Gaiter missed five games with a third-degree high ankle sprain.
"I want to show that I'm not injury-prone. Injuries happen so I couldn't really do anything about it, but I'm bigger, faster, and stronger now so I should be able to finish the season," Gaiter said.
The Tim Irvin-Jordan Cronkrite era at Westminster is now over and Gaiter wants to prove that he can carry the load.
"I'm excited to show that Tim and Jordan weren't our whole team. They played big roles on our team, but I want to show that I also have talent too and I have the leadership ability to put the team on my back."
The versatile slot receiver described his style on the field.
"I'm quick. I can make one move and get out of there. I can play both sides of the ball and I will even block if I have to."
Purdue, Cincinnati, Duke, and Bowling Green have all offered Gaiter and he is hearing the most from them.
"Right now, I'm trying to hold off on any commitment until the summer time. After spring, I'm going to see who comes around the most and who is talking to me the most and then I'll try to be committed by the start of my senior season."
Gaiter's father, Tony, played at the University of Miami and it is a program that he would definitely be interested in.
"I would consider it because my dad went there and it's close to home and that was my favorite school growing up. That would play a big factor in my recruitment, but if they don't offer me it's fine because I'm grateful for what I have."
Miami has been by WCS and Gaiter has attended Miami camp each of the last three years. As of now, he says he does not plan to participate in Miami camp this year.
"They've been here a couple times, but they haven't really shown that they were ready to offer me. I would like to have the offer and it would be something I consider."
What type of advice does his father give him with the recruiting process?
He just tells me not to let anybody influence me. Obviously he's going to be in my ear but at the end of the day, he wants the decision to be all up to me because I am the one going to college.