Miami LB commit Pinckney has that dog in him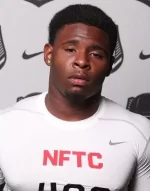 Miami's 2016 class is the consensus top class in the country right now with a little less than a year to go until those prospects can actually sign with the Canes. At the heart of the class is linebacker Michael Pinckney (6-1, 220), who has been committed to Miami since June 21st, 2014.
One of the main characteristics of Pinckney's game that most fans noticed when they watch his tape is his aggressive nature on the field. The Jacksonville Raines product talked about where that ability comes from.
"I get it from my dad because he used to have really bad anger problems. When I was a child, I wasn't raised to be a bad child but I was just aggressive throughout my whole life. Everything I do is aggressive and physical. Football was my outlet to release it and not get in trouble for it," Pinckney said.
Pinckney was born in Carol City and posts frequently about Dade County on his Instagram and Twitter accounts. He explained what "Miami" means to him.
"When you mention the 305, you're going to hear about football. That's where the players come from. Everybody that comes out of here wants to rep it because it's just something about it. I feel the heart every time I'm down here."
As a foundational member of the 2016 class, Pinckney knows how special the group can be.
"This class will be a big contribution to Miami. I know we will probably lose a couple people – and I'm not saying I know anything, but it's like too good to be true right now. We have some of the top players in the country committed and if we keep it together then we will be something to deal with when the time comes."
The bond between Pinckney and the other two linebacker commitments, Shaq Quarterman and Zach McCloud is something that could help keep all three prospects committed.
"Me and Shaq are real cool since we're from the same area and we know a lot of the same people. I'm cool with Juwon Young down there too. It's cool to go down and hang out with them boys. Zach is a quiet dude, but he's cool and he's a great player too."
Micheal Barrow was Miami's linebackers coach when Pinckney committed to the Canes last year. Now, Hurlie Brown is in control of that position.
"When it switched over from Micheal Barrow, I was real alarmed when it happened because I didn't know what was going on, but when I found out it was going to be Hurlie I was happy because that's been my main man for a while. We have a type of bond that I see working with him for the next four years. I hear from players that he's a good dude about his business and he keeps it one hundred with you."
Pinckney visited UF unofficially over the weekend and plans to take other trips in the coming months, but he says that his status as a Miami commit has not changed.
"It's still 100%. I'm always going to take my visits and I will take all five of my officials because I just want to see other places, but my commitment to Miami is solid."
Pinckney has one goal for the offseason.
"My biggest focus right now is working on running through tackles. I can get them down, but I want to make sure I explode through them more. I want to explode more through my legs."