Miami Freshmen Shine in Season Opener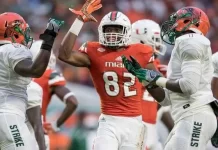 On Saturday evening at Hard Rock Stadium, Miami freshman linebacker Shaquille Quarterman let it all sink in.
"When we were out there warming up by ourselves in the field, I like to kneel down, feel the grass in my hands," Quarterman said. "That's when I really got to sit there and think about, you know, where I am, where I came from, and everything like that."
Quarterman had a long journey to Coral Gables, but like Miami's other freshmen, everything has led up to this moment. Several key newcomers worked hard in anticipation of Saturday night's game, and from the very first possession, they stepped up to the plate.
Shaquille Quarterman, Michael Pinckney, and Zach McCloud all took the field right away for the 'Canes, starting at linebacker in their first career game.
They have been nicknamed "The New Bermuda Triangle" by Miami fans who believe they will become a lethal trio, and all night FAMU appeared lost near the line of scrimmage.
The three true freshmen combined for 11 total tackles, and Shaq Quarterman was second on Miami's defense with 7 total tackles. Quarterman laid some bodies on the ground throughout the night's matchup, and thanks to stout performances from Miami's front seven, Florida A&M put forth -8 rushing yards in the first quarter.
"We definitely feed off each other," Quarterman said postgame. "Mike is the energetic one, I'm usually calm and analyzing, and Zach's usually the 'silent-hitman'."
All three of their skill sets combined for an impressive first game against FAMU Saturday night. The trio's performance helped Miami hold the Rattlers to 3 points in the 'Canes 70-3 victory, and allowed other freshmen at other positions to have success as well.
Other than the 'Canes linebackers, all eyes were on freshman wide receiver Ahmmon Richards to open up the game. The 6'1" target got the starting nod, and developed steady chemistry with Brad Kaaya throughout the game's first three quarters.
Richard's action started with a 16 yard reception over the middle that helped the 'Canes move the chains, and his day culminated with a 15 yard touchdown reception to extend the Miami's second half lead. Richards finished the night with 31 receiving yards on 2 receptions, and helped solidify himself as a dangerous target moving forward.
Although Miami's freshmen starters stole headlines throughout the night, several other first year players made an impact on special teams. 2016 ESPN 300 recruit Patrick Bethel blocked a punt on Saturday, and running back Travis Homer tackled FAMU's punter in the backfield on a key fourth down.
Homer made an incredible play on special team that drive, but his night did not come without error. On a drive in the fourth quarter, the freshman fumbled near the end zone, giving FAMU possession. Homer finished the game with 35 yards during his second half action, and the running back will look to continue his development on the field if Miami gets a large lead against FAU next week.
Other freshmen also stepped onto the field for Miami, with Joseph Jackson, Malek Young, Cedric Wright, Jeff James Jr., and Dionte Mullins taking snaps amongst others who were playing their first games as Hurricanes.
This game served as an important one for Richt and his staff, as they looked to develop many of their freshmen who will be necessary for Miami's depth. Players such as Joseph Jackson may be critical for the 'Canes moving forward, and with Florida Atlantic University coming to Hard Rock Stadium next week, Miami's newcomers may have an opportunity for more snaps next week.