Miami finding leaders within an important unit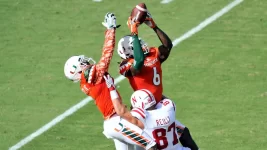 Beyond the glamour of Coach Kuligowski's "attacking" defensive line and Coach Rumph's ball hawking cornerbacks, lies the University of Miami safeties.
This pivotal unit won't get the majority of Miami's sacks, and if last year is any indication, they may not get the majority of Miami's interceptions either. But in a defensive scheme where "aggression" is the goal, the 'Canes safeties may be Miami's most important position to bring together defensively.
"How close we are is everything to us," Safeties Coach Ephraim Banda said to me when speaking about how they have come together this offseason. "One of the first things Coach Diaz talks about is how we are going to be together. Not only as a staff, but as a unit, as a defense, and as a whole team."
And two of Miami's leaders at the safety position are senior Jamal Carter and sophomore JaQuan Johnson. Coach Banda stressed "accountability" amongst the safeties this afternoon, and both of Miami's veterans have seen that vision.
"I think everyone has a clear vision now," Johnson said while speaking alongside fellow safety Jamal Carter. "Everybody is rallying around each other, and we are trying to make the best of our opportunity."
Johnson has an incredible opportunity to succeed this season as a sophomore, but to senior safety Jamal Carter, who is playing in his final season, 2016 is his opportunity to lead.
"That is what we're here for," Jamal said while keying in on his increased role. "To step up, be that quarterback of the defense, and we are comfortable in that position."
With Richt only 8 months into his regime, comfortability is a goal Miami has been working towards all offseason. While the challenge of coming together as a unit may seem difficult for veterans such as Carter, Johnson, and Rayshawn Jenkins, Coach Banda knows the 'Canes have embraced it.
"Those three young men [Jamal Carter, JaQuan Johnson, and Rayshawn Jenkins] have done an absolutely unbelievable job of buying in," Banda said admiring their adjustment. "They have done a great job of, you know, not putting up a wall in trusting me. And I needed to show that i cared about them, from the jump. I learned a long time ago from great coaches that I worked for that they have to know I care."
Banda has made his caring sentiment known from day one, and Miami's players have worked hard during the offseason with him. According to Coach Banda, the Hurricanes do a 6-7 week program called "backpedal school" during the summer, where the players learn about opposing offenses. This not only gave players an opportunity to enhance their knowledge, but also presented an opportunity for leaders to emerge.
And like most other leadership situations throughout the offseason, Jamal Carter and Jaquan Johnson were among those who stepped up. Both have shown incredible ability on the field during the offseason, but at the end of the day, Miami's leadership with the coaches has been the most remarkable improvement going into 2016.
"I feel that the whole entire defense is more confident in believing in the coaches," Johnson said while discussing Miami's unity and the 'Canes youth at that position. "Our secondary is young but we have seniors, we have two safeties that are seniors and a corner who is a senior, so those guys really keep everything in the right position."