Miami commit DeAndre Wilder "I Always loved Miami"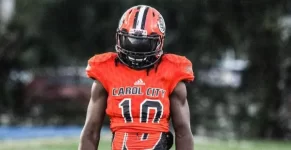 Photo Credit: Andrew Ivins Miami247
4th & 8 inside the Northwestern 25 yard line, Miami Northwestern was lined up in punt formation with the score tied 20-20 with 10 minutes left in the game. Northwestern HC Max Edwards pulled a wild card out of his sleeve and decided to attempt a fake punt..... that didn't end up well for him. The Chiefs stopped the Bulls and three plays later 2018 RB Camron Davis scored to give Carol City a 27-20 lead.
Carol City's defense has carried this team through the season; when the offense wasn't there, the defense always found a way to win the game. Despite their key stops throughout the game; they will be without one of their star players for the playoffs. 2017 Miami commit DeAndre Wilder.
"My age finally caught up to me," said Wilder "The age limit to play is 19 and 9 months, which means my high school career is over."
With Wilder high school career in the books, he decided to end his recruitment and commit to the hometown Hurricanes
"I always loved Miami growing up. When Auburn told me they didn't have a spot for me in their class, I talked it over with my family and we decided that Miami is the place for me."
With the commitment out of the way, Wilder can now focus on improving
#Squad17
and helping his team secure a state championship
"I'm just glad I got it over with, I'm going to do everything I can to make this recruiting class better and I just want to help my team win a state championship, I know I can't play but anything that they need I'm going to do to help bring a title to the carol city."