Mark Richt June 21st individual camp notes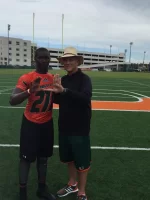 (Jeramy Passmore and Mark Richt)
Miami hosted their rising 9th and 10th graders camp for 2019 and 2020 prospects. Although it was a soggy afternoon, the play continued into the afternoon after a weather delay. Here are some of the prospects who stood out.
**2019 Mount Dora OLB/DE Jesiah Pierre stole the show today. This guy is a freak prospect in every sense of the word. 6-2, 210-pound rush end/linebacker prospect was probably the most impressive prospect in the eyes of Miami coaches. A commitment from him this week is a possibility. He will be in Miami the next few days because his older brother James will be camping on Thursday.
**2020 Belen Jesuit ATH Don Chaney also caught the attention of Miami coaches. He is related to former Canes WR Jermaine Chambers. Chaney played varsity football as an 8th grader last year as both a safety and windback in Belen's wing-T offense. He is already at 6-foot, 175 and Syracuse has offered.
**2019 OL Antonio Serrano (also from Belen Jesuit) won the Best OL award for the 10th graders at camp today. The 6-2, 280 sophomore projects as an interior lineman at the next level. He's a grinder in the threnches.
**Three Westminster Christian prospects were in attendance today and they all proved themselves.
1) 2019 DE/OLB Jeramy Passmore – This 6'2, 220-pound rising sophomore is a guy that Miami definitely has their eyes on early. His coaches have praised his willingness to work and the Canes staff has taken notice. He's been around the program more recently and has a chance to grow into a special player.
2) 2019 WR Kalani Norris – Westminster's smooth receiver was routing defensive backs all day. Norris' footwork and craftsmanship at the position this early in his career are impressive. He was up at Ohio State last week for their camp and the Buckeye coaches brought him to the group of upperclassmen for 1-on-1 reps. Temple has already offered. He's about 5-11, 175 right now.
3) 2019 ATH Demetries Ford is electric. In over 10 reps as defensive back today, not a single ball was caught on him. He will play a slot/running back role for Westminster on the offensive side of the ball as well. Potential nickel prospect down the line.
**Mater Academy's 2019 Montavious Brini has a nice frame with room to grow. This will be a big season for him because it's his first time playing varsity football. We will learn a lot more about him in a few months, but he's a prospect Miami is keeping tabs on.
**Edgerrin James' nephew, 2019 RB DJ Williams, rushed for 1000 yards in his freshman season. He is being coached by former Cane LaVaar Scott (brother of Larry Scott) and has high interest in Miami. He is 5-11, 180-pounds.
**Tomorrow Miami will host a rising juniors day for 2018 prospects. South Dade CB D.J. Ivey (6'1, 175-pounds) will be there and he's a possible offer target for Miami tomorrow. High interest on both sides. He is about to blow up as a prospect. Looks a lot like Artie Burns at the same age.