Mallory knew he wanted to be a Cane in December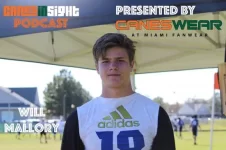 Miami tight end commit Will Mallory joined the CanesInSight podcast presented by CanesWear on Wednesday night.
Despite the fact that most analysts had Providence HS (Jacksonville) tight end Will Mallory pegged to Michigan up until right before he committed to the Hurricanes last month, he says that was far from the case.
"I think everybody kinda knew around Christmas time just by the way I was taking about Miami," he said. "I think everyone was kinda surprised by that because everyone had me as a Michigan lock. I've always been super excited about Miami and my family is obviously excited about it too. They've said nothing but good things about Coach Richt and they also saw the vision that they have for me there."
One of the reasons that some had suggested Mallory was Ann Arbor bound was because his father Mike and uncle Doug played there. the football pedigree doesn't stop there for the talented tight end either -- his grandfather Bill is the winningest head coach in Indiana football history, his uncle is the secondary coach for the Atlanta Falcons, and his dad is the special teams coach for the Jacksonville Jaguars.
"Growing up, football was always a big part of my family," Mallory said. "I was always around the team and been there over the summer. Every summer here, I go in and sit in with the tight ends of the Jaguars and it's really helpful being exposed to all of that. Definitely, you understand a lot more about the game and that it's more than a physical game, it's also a mental game. My family definitely helps me with what I need to work on so after games they're the first ones to tell me what I could have done better. They're all really supportive and just growing up around that, it made me a lot better."
Mallory went on to explain what sealed the sea for him with Miami and why he felt like he was ready to commit now.
"I went back and visited like two or three months ago and I had already been super interested in Miami," Mallory said. "It just felt like home and I just knew that's where I wanted to go. I didn't really feel like I needed to wait any longer."
And probably the primary reason for his decision was Miami's coaching staff.
"You can't say enough about Coach Richt. He's awesome -- he's a stand up guy. People come up to me all the time to congratulate me for my commitment and the second thing they always say is that you're under a great guy," he said. "I come from a coaching family and they've heard nothing but great things about Coach Richt and that was one of the main reasons I wanted to go there. When you have that type of guy as the head man, he's going to bring in nothing but great people to surround himself."
"Coach Hartley came in last spring and he offered me and ever since then we built a really strong relationship. He was never the guy who was texting me all the time blowing up my phone -- he's a real down-to-earth guy and we didn't always just talk about football. He gets to know you as a person. He just kinda made you feel like family," Mallory said.
Aside from Mallory, the Hurricanes top-ranked 2018 class also boasts another one of the elite tight ends in the country, Brevin Jordan from Bishop Gorman in Las Vegas. The Canes staff was open with them from the beginning of their plans to bring in multiple players at the position.
"It was awesome because from the get-go they had a vision not only for me, but for Brevin. The way that they see us in the offense, it kinda hit me that it's something special because from the get-go they saw exactly what they wanted from me and from him and how we can help the offense and help the team. When a coach and a team has a vision for two guys in particular , it's pretty special -- especially when they get the two guys that they want."
"Brevin can do it all. He's the bigger guy, a lot heavier than I am, but he's a stud. He will be doing a lot of the inline stuff and he can split out too," he said. "For me, I'm a long guy at 6-5 who can spread the field vertically and I think my receiving skills and speed are kinda what attracted them to me. I have a big frame with the potential to fill into that."
Listen to the entire interview starting at the 21-minute mark.
[SOUNDCLOUD]323153701[/SOUNDCLOUD]