Local DT Silvera talks Miami offer (HAS COMMITTED!)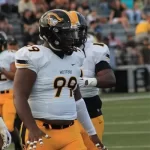 One of Miami's top needs in the 2018 class is defensive tackle and Canes coaches sent out a big local offer today to American Heritage DT Nesta Silvera.
Silvera had an idea that the offer was coming because he said Miami assistant head coach Craig Kuligowski stopped by American Heritage before signing day and told him to come to junior day in February.
"Late last week, one of my coaches said that Miami wanted my film. Miami was my dream school growing up and I've always wanted to play with that 'U' on the side of my helmet," Silvera said.
"To have the opportunity to put on for south Florida means a lot."
[HUDL]video/3/4211562/57e6944bbd75201524e37374[/HUDL]
Silvera said that local recruits are "most definitely" looking at Miami more seriously under Mark Richt.
"You can see what this coaching staff has done and how much of a difference they've made not just recruiting-wise, but overall on the field. They had a much better season last year compared to prior seasons," he said.
Kuligowski's track record of producing NFL linemen has caught Silvera's attention for sure, but even more impressive to him was seeing the difference in Miami's front 4 play this season.
"That's something that goes through my head because he's put a lot, a lot of great players in the league. But seeing what he did with the D-Line even this season was crazy. The way I saw Chad's (Thomas) year compared to the first two was a huge improvement," Silvera said.
The 6-2, 308-pounder with a mean streak will be at Miami for junior day this upcoming Saturday, marking only his second time on campus. He was at Miami's junior day last year as well with recent signee Kai-Leon Herbert.
"Kai's like my big brother actually. Our family members are very close friends. Before I even got the offer, he kept saying 'it's coming, be patient'."
When it comes to recruiting, Silvera says he wants to enjoy the process but ultimately make his decision prior to his final high school season.
"I want to take all my official visits, but I want to get my commitment out of the way before my senior season," he said.
The Heritage product does not lack confidence, either.
"All coaches just love my physicality. There's not too many true 1-techniques who can stop every run play and do what I do. I think I'm one-of-a-kind with my talent."