Lingard's position coach talks with CIS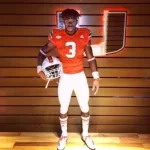 Mark Richt and Miami made buzz in the recruiting world last week when they picked up a commitment from 2018 five-star RB Lorenzo Lingard from University High School in Orange City, Florida.
University High School running backs coach Darry Evans is going on his second season working with Lingard. Evans started at the school last spring and he knew right away that he had something special on his hands with the talented back.
"He was a humble kid. He doesn't say a lot and he works hard. That's one thing I can say about him is that he is a hard worker, he gets his grades, he's not a character problem, and he does what he's supposed to," Evans said.
Lingard's prowess on the track has been noted in multiple reports, but his position coach says that he's more than just a fast guy playing football.
"His best ability is yards after contact. If you look at a lot of his runs, he will be in a pole and just burst through. One guy is not going to bring him down -- it's going to take about two to three people. He knows how to keep his legs moving and he loves to compete," Evans said.
Evans said that Lingard holds one of the top five 110M hurdle times in the country and would have won the 300M state championship if not being disqualified for knocking over a hurdle. So where exactly does track help him on the football field?
"That form running you see when he breaks out. When you're in track, you work on getting off the block fast. He does a lot of sand training and field training, so it's all about that burst."
"I really think he's someone who can go to the NFL and the Olympics because he just started learning track and look what he's done," said Evans.
Evans added that Lingard has been hand-timed in the "4.4s and high 4.3s consistently" recently in the 40-yard dash, and also said that he continues to improve that number.
As his coach, Evans said the next step for Lingard is to fine tune his skills as a receiver out of the backfield.
"I want to see him work on that route running. Once he gets the route running down pat, I think he's the total package for what you want in a five-star back."
Looking at Lingard's recruitment, the early commitment seems to be a product of Mark Richt and Thomas Brown cashing in on a long-time work in progress.
"From talking to our head coach, I knew he wanted to commit before his senior season, but I didn't know it would be this soon," Evans said. "I had a feeling it was going to come down to Miami and Clemson. Florida and Ohio State were in there at the beginning but they fell off a bit in the end. He loved both Miami and Clemson staffs, but people have to realize the relationship he has built with Coach Richt and Coach Brown since when they offered him back at Georgia. That was his first offer."
Evans, who follows the recruiting scene closely, knows that early commitments are not anywhere near a done deal, but he believes that Lingard could truly be a locked in with Miami.
"It's shut down. Someone who works at Florida hit me up and asked me if they had a shot, and I told them it's over. His dad said it's shut down, so it's shut down. Miami doesn't have to worry about anything. I don't even think he will take visits. He told me once he commits, it's over with," Evans explained.
"Miami doesn't have to worry about an Anthony McFarland situation or anything like that."