June enrollee update: Evidence Njoku
CanesInSight will be checking in with a number of 2017 class signees prior to their arrivals in the coming months. I caught up with wide receiver signee Evidence Njoku last night.
***​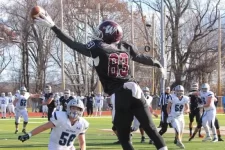 Evidence Njoku has known for a while that his physical capabilities might be able to take him a long way in life. But watching his older brother, David, get drafted in the first round by the Cleveland Browns last week has elevated the younger Njoku's desire to make the absolute most of his talent.
"It's making me that much more excited to get to the next level and start competing," Njoku said.
"I feel like going through the whole process with him, seeing how everything unfolded with college and the combine really opened my eyes and made me realize this is possible – it's not just a dream. If you have the right size and attributes and truly work at it, there's no limit to what you can achieve."
Evidence says he began his current training regimen back in January and was weighing 202-pounds at 4.2% body fat at the start of the program. After a couple months in the gym, Njoku says his trainer recently measured him at 6-5, 212-pounds with a composition of 4.4% body fat, so he has added about 10 pounds of muscle in that short span.
Njoku also tested out his vertical jump a few weeks ago after a long workout and hit 35.5 inches. His wingspan measured at 85 inches.
[TWEET]851829006617812994[/TWEET]
Although he says he's always been a hard worker, fuel has certainly been added to the fire for Njoku. It's something that he discusses with his future teammates as well.
"I'm definitely taking every workout personal. I feel like I'm taking every rep, every route I run, everything with a higher meaning. I have a goal that I feel can be reaches, as well as my other teammates. I talk to Ahmmon Richards, Mike Harley, Jeff Thomas all the time and we have goals for ourselves. Dreams can become reality very quickly if you work hard."
Njoku is slated to enroll at Miami for the second summer session on June 22nd.
[TWEET]859593229444014080[/TWEET]