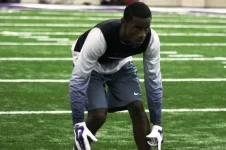 Junior college cornerback Jhavonte Dean is slated to visit Miami next weekend.
I just spoke with a family member of Dean's and asked if he thought a flip to Miami from Alabama was coming, and he responded, "he will, probably after his visit."
Miami is looking to add Dean to their defensive backs class, as Manny Diaz, Mike Rumph, and Ephraim Banda all having gone to see him before the dead period. He is currently in Miami and has been working out with 2018 Canes commit D.J. Ivey this week.