Jean-Baptiste prepared for JuCo journey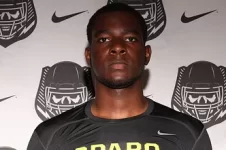 Andy Jean-Baptiste's path to Division-1 football is a little different than most 6-5, 240-pound athletes his age. The 2015 Edison defensive end has signed with Arizona Western JC and plans on playing there for the next two years. How did a prospect with his skillset wind up in this spot?
After playing his freshman year at Krop, Jean-Baptiste sat out the next two years. He told his side of the story.
"I stopped playing because of my academics and GPA. I knew I messed up, but I couldn't stay down and I got myself situated to be able to play another year," Jean-Baptiste said.
In his first year back, Jean-Baptiste flashed the potential to emerge as an elite prospect within the next couple years. Some have even compared him to fellow Haitian Jason Pierre-Paul, who started playing football his junior year of high school before doing two years at the junior college level.
"We have some things in common, but him and J.J. Watt are the best right now so I can't really put myself there. I look up to him though."
Jean-Baptiste's transition back to the football field this past season was tough initially, but he felt like he got back into the swing of things.
"It had been a while since I played so I lost a lot, but once I got back into it my coaches really motivated me. I got bigger, faster, and stronger. My coaches made the best of me this year."
This one season back has motivated him to make right on his immaturity back in his early high school years.
"I'm going Junior College because I messed up in the past. I'm going that route and I hope I can continue to get better. It really did change my mindset."
The athletic specimen is not focused on recruiting right now.
"I just want to be able to go to school and get an education. If I make it to the next level, then I'll make it."
One program that has caught his attention though, is the hometown Miami Hurricanes.
"It's home so it's a really beautiful place. I see myself coming back here maybe."