Henderson: I'm still solid with Miami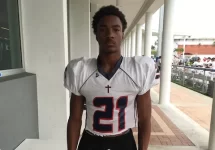 2017 Christopher Columbus 4-star ATH CJ Henderson has been committed to the Miami Hurricanes since February. At Columbus, Henderson has played mostly running back at 6-1, 185, but recruiters see his potential on the other side of the ball and he has embraced that.
"It doesn't really matter what position I play. I'll do anything to help the team," said Henderson. "At the next level though, I'll prefer corner because that's what college coaches want me at. They like my size and speed at the position."
Columbus Head Coach Chris Merritt has coached a plethora of elite talents over the years and he believes that Henderson is right up there with the best of them.
"He's one of the most dynamic athletes that I've had the opportunity to coach. You start comparing him to athletes that have been drafted like Pat Lee (Auburn) and Deon Bush and he's just as good, if not even more dynamic than those guys at this point of his life," explained Merritt. "What separates him from those guys right now is that his ball skills are phenomenal."
Henderson will play running back once again this season for the Explorers, but he is also working with the receivers this spring and learning to run routes. Columbus also plans on using him on defense in passing situations.
"I think he can play wherever the heck he wants to play, to be honest with you. Some people have it in his head that he's a defensive back and he has a future at that position," said Merritt. "Most of the top schools have offered him as that, but ironically he has about five snaps for me at defensive back. Anytime you have an athlete like him at the high school level though, you have to get the ball in his hands."
Despite his commitment to the Hurricanes early in the recruiting process, Henderson will continue to take a look at his options. Florida seems to be on the Canes' tail, but the South Florida speedster appreciates that Miami was one of the first power programs recruiting him.
"I'm still solid with Miami. I'm going to take some visits to weigh out of my decision, but I like how Miami made me a top priority at cornerback," said Henderson.
As for what he likes about the Gators?
"Their cornerback tradition," Henderson said.
Miami cornerbacks coach Mike Rumph has been Henderson's primary recruiter.
"He's real cool. I have a good bond with him. He started getting on me early," explained Henderson. "Coach Richt is great too. All of them are great recruiters and make me feel at home any time I'm over there."
Henderson plans on attending Michigan satellite camp, Miami camp, and Georgia camp this summer.
Highlights
:
2015 Junior Year Highlights - Christopher Henderson highlights - Hudl