Gurvan Hall excited about Miami's recruiting class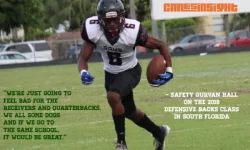 Palm Beach Lakes 2018 safety Gurvan Hall has officially hit the big time. Miami has been on the 6-2, 190-pound defensive back since their Paradise camp last July, but the likes of Alabama and LSU have recently offered as well.
Hall was at Miami's bowl win victory over West Virginia and says he paid close attention to their season.
"They're a great coaching staff and I respect them 100%," Hall said. "When I first met them, they welcomed me in and it was shocking."
"I like how they played the true freshmen at linebacker, because normally people don't do that."
Not only did Hall watch Miami on the field this season, but he seems to be following their recruiting class closely too.
"They're starting to bring back that old 'U' and I'm pretty sure that 2017 class is going to be one that notches it. The 2018 class is going to be the one that wins that whole NCAA championship," Hall added.
The West Palm Beach product said that he speaks with Gilbert Frierson, Trajan Bandy, and Amari Carter most frequently of any recruits in south Florida -- all of which happen to be future Canes. He explained what it would be like to play with some of those guys.
"We're just going to feel bad for the receivers and quarterbacks. We all some dogs and if we go to the same school, it would be great," he said.
Coaches from LSU, Alabama, UF, and USF have been by Hall's school over the past week. He said he's not worried about receiving any more offers in specific and that he would rather just "stay humble and hungry".